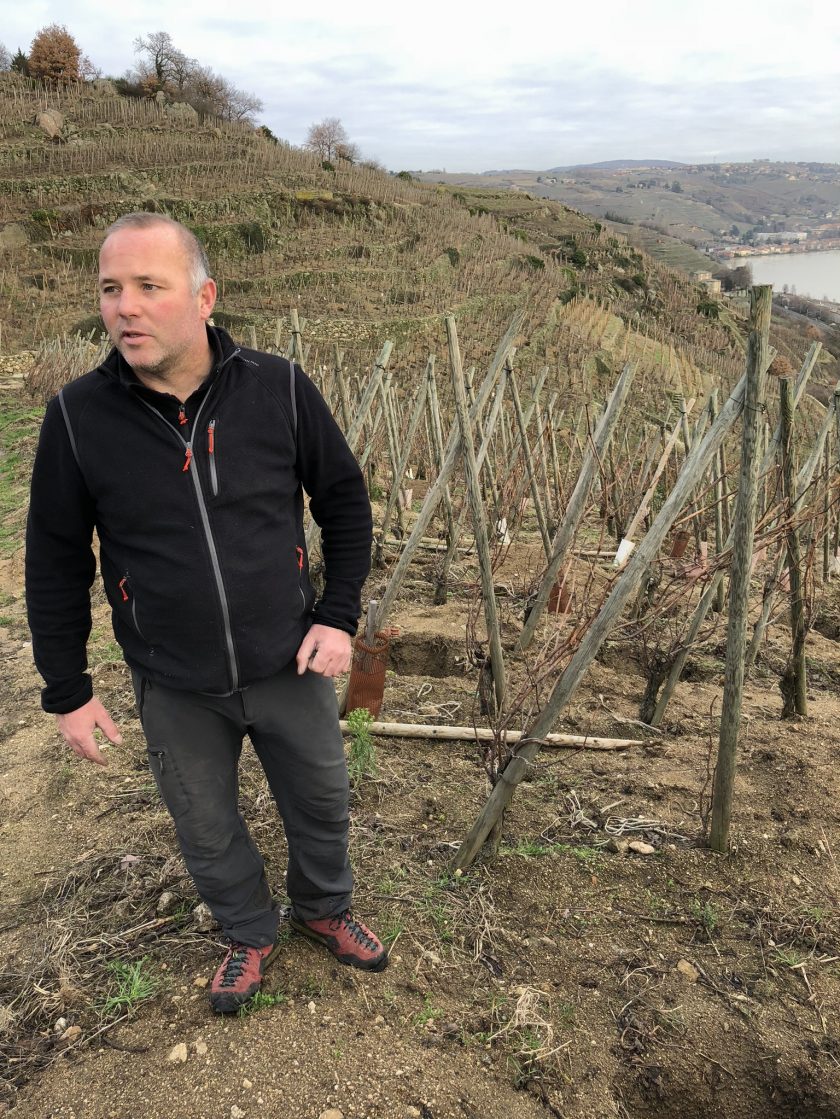 Christophe Blanc
| | |
| --- | --- |
| Vigneron | Christophe Blanc |
| Location | St-Michel-sur-Rhône (Loire) |
| Size of Domaine | 5 ha |
| Terroir | Continental climate, Mistral (northern wind) influence. Granite with calcareous veins. Steep terraced vineyards overlooking the Rhône. 340m altitude. |
| Viticulture | Practising organic |
| | View Christophe Blanc wines ↓ |
Nowadays Christophe Blanc farms a bit less than 5ha with vines in St Joseph and Côte-Rôtie. It all started in Condrieu when (in 2005) he planted 1.6ha high up (at 340m altitude) on the vertiginous shoulder of the hillside, in St-Michel-sur-Rhône, an extreme physical work even for a well-built rugby player! At the time Christophe also worked for Francois Villard for a couple of years, and has continued to help out there when needed. They are good friends and exchange lots of ideas on wine.

Living on the terraced slope, literally 50m away from some of his vines, Christophe can cherish them and pick grapes at the precise 'bon moment', retaining much more freshness than the norm in Condrieu. This prime granitic terroir, intersected by veins of limestone, ensures minerals and salt whilst the relatively young vines help to give more acidity, and so Christophe is able to push the ripeness of 10% of the grapes to bring complexity from noble rot.
Christophe is physically allergic to sulphur – it causes his throat to swell up, so he looks to use the minimum possible, bottling with a total of 30 to 40 mg/l (less than half the norm used in the appellation). His wines are raised in a mix of new to 4yo futs and demi-muids. They have a digeste quality and sense of freedom that is rare in the appellation, and there is a marked granite-induced salinity on the finishes. In 2020 he completed construction of a new cave for fermentation and ageing of his reds, but has retained his atmospheric, snug little cave underneath his house for the ageing of his stunning whites.


Christophe Blanc Wines
Christophe Blanc
LES GALETS 2019
Vin de France
Christophe produces just 0.23 ha of viognier from young vines high up on the hillside on granitic soils in St-Michel-sur-Rhône. Very good value viognier, with typical notes of peach, pear skin, mineral touch and vigour on the finish.
Christophe Blanc
CONDRIEU 2019
Les Vallins
100% Viognier
(15.5% alc.)
As the winery is 50 metres from his vines, and he has such a small holding (just 0.33 ha), Christophe is able to pick the grapes at the precise 'bon moment' and retain an acidity which is so often lost in late harvesting. A well handled élevage helps the wine retain freshness and it seems that the mica-rich granitic soil gives this deep viognier added complexity and tension.