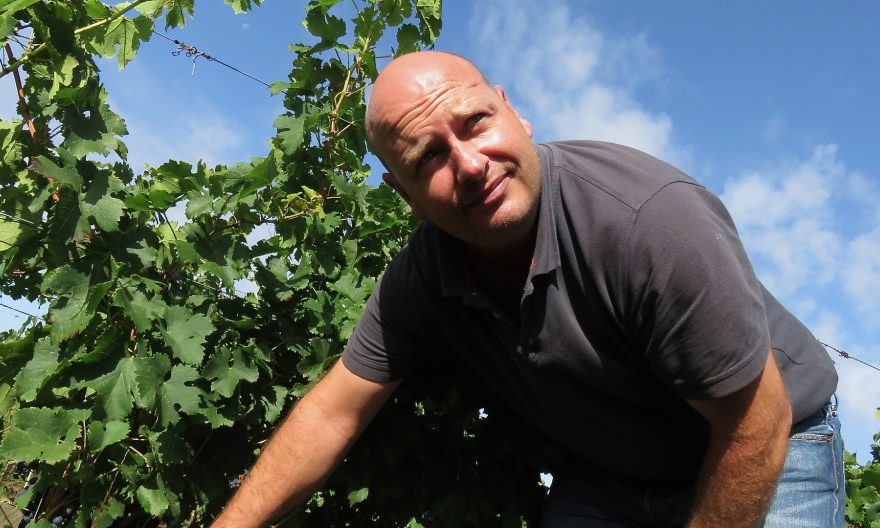 Château La Grave Figeac
| | |
| --- | --- |
| Vigneron | Laurent Clauzel |
| Location | Saint-Emilion (Gironde) |
| Size of Domaine | 6.5 ha |
| Terroir | Atlantic climate. Sand, gravel, clay-limestone on a limestone bedrock. 70m altitude. |
| Viticulture | Certified organic (Ecocert) and biodynamic (Demeter). |
| | View Château La Grave Figeac wines ↓ |
Château La Grave Figeac is a 6.5ha St-Emilion Grand Cru domaine located on the Figeac plateau in the north west of the appellation, right on the border with Pomerol. Surrounded on all sides by Cheval Blanc, Figeac and La Conseillante, the vineyards are extraordinarily well placed.
This sector of St-Emilion is very different from the rest of the appellation; its free-draining siliceous-clay gravelly soils are a direct continuation of the Pomerol plateau, and particularly well-suited to cabernet franc which accounts for 35% of all plantings at La Grave Figeac, and brings a degree of finesse and restraint seldom seen in St-Emilion. There is also a little 'crasse de fer' (iron oxide) in the soil, mostly found in Pomerol, bringing an irony element to the wine, mingled with the flavour of truffles that mark the unique identity of La Grave Figeac.
Now in the hands of Laurent Clauzel, the estate was bought by his father. An insurer by trade, Jean-Pierre Clauzel's family used to own some of the best domaines in the area - including L'Évangile and Château Nénin in Pomerol - and he spent much of his free time helping out in the vineyards and the cellar. Saddened by the death of his uncle and the subsequent sale of L'Évangile, he bought La Grave Figeac in 1993 because he could clearly see its potential and it was also very close to the family's other properties.

Laurent joined his father after completing his studies in 1996 and implemented a few changes right away, banning the use of herbicides and pesticides, and introducing ploughing. Laurent's wife Caroline, whom he met on the classroom benches, became a full member of the team in 2005.
In order to extract as much potential of the spectacular terroir he is lucky to work with, Laurent decided to go a step further and switch to organic farming in the mid-2000s, obtaining certification for the 2012 vintage. The natural evolution for Laurent was conversion and certification to biodynamic farming which got official from the 2021 vintage. The vines are about 45yo on average - this includes 1 ha of cabernet franc over 100yo - and yields are kept very low for the appellation (about 35hh on average) for a true expression of the Figeac terroir.
His approach in the cellar is gentle and carefully measured, sulphur is only added after the malos (total 30-35mg/l for the classic range), he carries out a sensitive élevage (part-ageing in cement), and the wines are aged in bottle until they start to open up.
From the 2015 vintage they have added to their range an excellent St-Emilion Grand Cru called L'Essai. A rugby fanatic, the label in part attests to Laurent's passion for the sport, but it is also the first ever wine that Laurent has made without sulphur. He opted to age the wine in cement rather than barrel, it is pure and balanced with the low alcohol typical of La Grave Figeac.
Laurent and Caroline's wines are an absolute joy to drink, showing more class and finesse than many Grand Cru Classés. Their daring attitude in an appellation so avert to risk-taking and experimentation is a breath of fresh air.
Château La Grave Figeac Wines
Château La Grave Figeac
SAINT-ÉMILION GRAND CRU 2016
65% Merlot, 35% Cabernet Franc
(13% alc.)
Surrounded by the châteaux of Cheval Blanc, Figeac and La Conseillante in Pomerol, this 6.5ha estate on sandy, gravelly soil is a jewel, and well up to most Cru Classé estates in quality. One hectare of the cabernet franc vines is 100yo which definitely plays its part, as does the biodynamic viticulture. Sensitively aged in one third each of new oak, one year old barrels and cuve, yields around 35hh are very low for the appellation. 2016 is a stunning vintage, the wine shows well now although it will age perfectly; it is very harmonious, feeling composed and classy with a touch of menthol and spiced plum fruit, an old vine feel to the deep structure. Total SO2 35mg/l. For drinking now to 2035+.
CHÂTEAU PAVILLON FIGEAC
SAINT-ÉMILION GRAND CRU 2014
65% Merlot, 35% Cabernet Franc
(13% alc.)
Pavillon Figeac is the 'second vin' from Château La Grave Figeac, a selection of lighter wines that will develop beautifully but faster compared to the 'grand vin'. The ageing is mainly done in concrete vats with some older 225ltr barrels as well. Amazing value for money, it's light and approachable but still with depth and complexity – as you'd expect from such a classical vintage. Simply put, this is the perfect luncheon claret!
Château La Grave Figeac
SAINT-ÉMILION GRAND CRU 2015
L'Essai
90% Merlot, 10% Cabernet Franc
(13% alc.)
Laurent's first ever wine made without sulphur – rugby fans will love the label designed by a well-known cartoonist working for the satirical newspaper le Canard Enchaîné. There is more merlot used in this cuvée which comes from sandier parcels than the main cuvée. Aged in cement cuves for 16 months, it has a crystalline purity to the fruit, with plums and red berries and a floral hint, with silky tannins and salty mineral quality on the finish. Laurent advises that it is best decanted for a couple of hours. For drinking now to 2023.