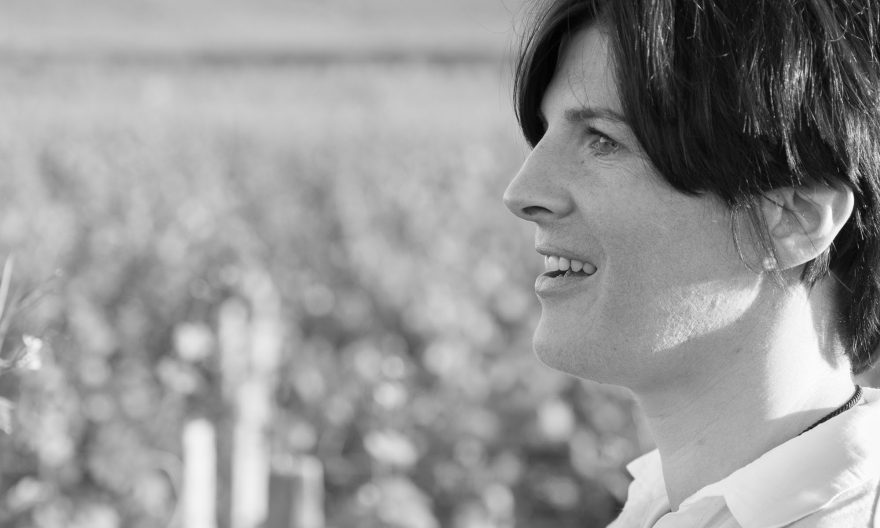 Cécile Tremblay
| | |
| --- | --- |
| Vigneron | Cécile Tremblay |
| Location | Morey-St-Denis (Côte-d'Or) |
| Size of Domaine | 4 ha |
| Terroir | Continental climate. Clay-limestone marls, alluvial sediments on mid-Jurassic (Bajocian and Bathonian) limestone bedrock. Gentle slopes up to 10-15° gradient. 250-300m altitude. |
| Viticulture | Practising biodynamic |
| | View Cécile Tremblay wines ↓ |
Cécile grew up in Vosne-Romanée but although her parents owned 7ha of vines, they rented them out under various sharecropping arrangements. Her grandparents were also not winemakers, although Cécile's great grandfather Edouard Jayer was a cooper in Nuits-St-Georges before WW1 and uncle of the legendary Henri Jayer. Much is made of her link to Jayer, and indeed Cécile remembers tasting with her uncle on many occasions, with her school friends Benjamin Leroux and David Croix. But the reality is that her approach, using a good proportion of whole bunches is radically different to that of Jayer who destalked 100%, and in fact it is her husband, the flamboyant Gevrey vigneron Philippe Charlopin who was a pupil of Jayer and inspired by his winemaking techniques.
When the contract for the first three hectares of the family's vines came up for renewal in 2003, with neither of her elder brothers interested, Cécile decided to jump on the opportunity and hasn't looked back! Since then, she has had one more hectare returned to her with another two hectares of Vosne-Romanée 1er Cru Les Beaumonts coming soon.
Cécile's work in the vineyards is fastidious, with the vines pruned to give a low 25 to 36hh, the soil is 'griffé' rather than deep-ploughed and then hoed by hand until July, with interceps used to control weed growth and the tops of vines not clipped where shade is needed (2020 was the first successful experiment). Having worked organically from the outset she has now converted all her vineyard practices to biodynamics. The birth of two children in recent years has not impeded Cécile's dynamic progress, and aided by four full-time employees, she tends her vineyards with the utmost care and attention. She has recently followed a course with Francois Dal (who also spent time in Cécile's vineyards), a renown agronomic engineer based in Sancerre – he advises on how to train and prune vines (taille Poussard since 2017) to encourage better sap flow with the aim of an energetic equilibrium of the plant and much lower incidence of the dreaded disease Esca. Since she has put his advice into practice her vines are more vigorous (resulting in more debudding being carried out), healthy and naturally balanced.
Cécile works from a new purpose built, spacious cellar in Morey St Denis right next to her Très Girard plot. At harvest time she is helped by a large team who pick grapes only when she judges the moment is absolutely right – she is quite prepared to harvest microscopic vineyards in two or three tries if necessary. Back in the cave, the percentage of whole bunches varies from wine to wine and year to year, from zero to 100% according to Cécile's taste and instinct. Long macerations with very little intervention in the form of pigeage or remontage are practised, followed by a gentle basket pressing and ageing in barrels made by Rully's master cooper Stéphane Chassin – the percentage of new barrels varies from 0 to 70%. The wines stay on their fine lees with no racking until they are prepared for bottling, when they are neither fined not filtered, SO2 is added at different stages and eventually tallies up to 50-60mg/l total.
Cécile's highly sought-after wines have a natural density and always offer purity and vibrancy tending towards black rather than red berry fruit, they age effortlessly with a filigree framing of fine-grained tannins.
Cécile Tremblay Wines
Cécile Tremblay
BOURGOGNE 2017
La Fontaine
100% Pinot Noir
(12.5% alc.)
It's great to be able to welcome a new wine from Cécile, especially when it is such good value for money. Cécile purchased organically farmed grapes from the Domaine de la Cras in Dijon to make this wine (aged as all her wines in recent Chassin barrels) which is medium bodied, charming, open-knit and bursting with aromas and flavours of juicy cherries and strawberries with a floral note. While the grapes may be purchased, the wine's textural charm is quintessentially Tremblay.
Cécile Tremblay
MOREY-SAINT-DENIS 2017
Très Girard
100% Pinot Noir
(13% alc.)
This comes from a half hectare of 40-45yo vines situated just below the 1er Cru of Clos des Sorbets. The vines are sited on an easterly facing 25° slope to the west of the main road (where all the best village sites are found). It was 70% destalked and aged in 20% new oak Chassin barrels, and it has a most attractive red fruits nose, perfect weight of ripe, velvety red and black fruits with a spicy hint, typical Morey backbone, fine tannins and a touch of salinity derived from limestone on the finish. For drinking now to 2027.
Cécile Tremblay
VOSNE-ROMANÉE 2017
Vieilles Vignes
100% Pinot Noir
(13% alc.)
This comes from a 0.53ha parcel of vines in Jacquines (50yo) and also Aux Communes (40yo). 75% destalked and aged in 30% new oak this wine is a bright dark red colour, seems particularly harmonious in this year and has spicy, red cherry-mulberry fruits with good depth, lovely balance and tension. The tannins are extremely fine, and there is real lift on the long finish. Old vines give the wine its complexity and character. Always the last wine to finish its malos. For drinking now to 2027.
Cécile Tremblay
CHAMBOLLE-MUSIGNY 1ER CRU 2017
Les Feusselottes
100% Pinot Noir
(13% alc.)
Cécile's small holding (0.45ha) of 50yo vines lie on the upper slope of this 1er cru just to the east of the village. There is little soil here and the vines are very close to the limestone rock. Destalked 60% and aged for a year in 30% new oak before racking and transfer to stainless steel cuve for four months prior to bottling in March. It has a slightly reserved nose that quickly opens up giving crushed, fresh red cherries and strawberries, spice, beautiful weight of vibrant, refined fruit has both delicacy and intensity with a supple teasing quality on the palate with real depth and length on the finish. For drinking from 2022 to 2030.
Cécile Tremblay
ÉCHEZEAUX GRAND CRU 2017
Du Dessus
100% Pinot Noir
(13% alc.)
In the 1936 Grand Cru delimitation, Échezeaux grand cru extended only to the 3.57ha of Échezeaux du Dessus. Échezeaux now has 11 climats extending to 37.69ha. The vineyards of Échezeaux du Dessus unquestionably produce wine of the finest grand cru pedigree. Cécile produced three barrels from 45yo vines, and like in 2015 and 2016 decided to destalk 100% for the fermentation – it easily has sufficient matter not to need the support of stalks. Interestingly Cécile explained that Échezeaux is a very sensitive wine to any kind of movement, shutting down quickly, and even in bottle this is apparent – so when you do get round to drinking it, bring it up from your cellars a day or two in advance! The wine has a hauntingly beautiful perfume, quite spicy with hints of liquorice, soy, anise, and a distinct note of wild rose. On the palate, the wine has a spicy cherry and cranberry fruit, real depth and an elegant silky mouthfeel with very clear cut and salinity on the long finish. For drinking from 2026 to 2036.
Cécile Tremblay
CHAPELLE-CHAMBERTIN GRAND CRU 2017
100% Pinot Noir
(13% alc.)
This comes from a prized holding of 80yo vines (0.36ha) in a deep red, iron-imbued soil on a 15° slope just to the south of Gevrey-Chambertin. Cécile's vines are in the lieu-dit Les Gémeaux, next to the holdings of Domaine Claude Dugat. There are approximately 30cm of well-drained soil with many small pebbles lying over a limestone rock base. Made with 80% whole bunches and aged entirely in new oak, the quality of the juice here is magnificent and the wine spent an additional 4-5 months in barrel before bottling in May. Combining both elegance and depth of fruit with more of a sense of minerality with impressive body and incredible length on the palate, this is grand vin and will age effortlessly. For drinking 2025 to 2037.