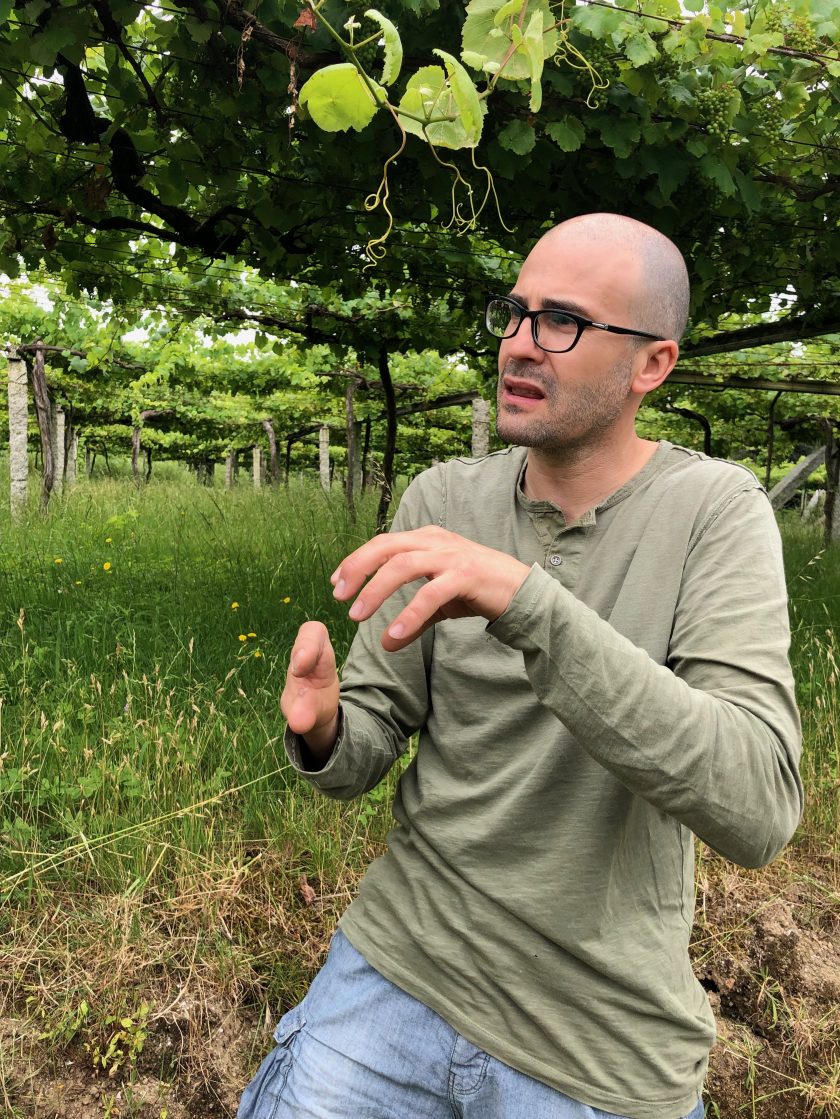 Bodegas Albamar
| | |
| --- | --- |
| Vigneron | Xurxo Alba Padín |
| Location | Cambados (Pontevedra) |
| Size of Domaine | 8 ha |
| Terroir | Atlantic climate. Granitic sand on granite bedrock. Gentle slopes and flat lands with proximity of the ocean, sea level. |
| Viticulture | Practising organic on property vineyards, works with growers who keep treatments to a minimum. |
| | View Bodegas Albamar wines ↓ |
Drinking Xurxo Alba's albariño at the excellent Madia Leva wine bar in Santiago de Compostela was the start of our love affair with Galician wines, and it was no surprise to see Nieves Barragan Mohacho, owner-chef of Sabor in London (and previously of Barrafina) head straight for Albamar when she spent a weekend in Galicia doing all the things she loved most in the region for a Guardian feature.

"Xurxo positively fizzes with energy and ideas to make ever-better wines in a way that reminds us of Julien Labet in the Jura, and this dynamism has taken him to the top of the tree of Galician winemakers."
As well as the delicious Rías Baixas albariño there was an extra attraction for Nieves as Xurxo's mum runs a brilliant furancho in the hamlet of Castrelo near Cambados, where she cooks simple lunches for the locals (stews, octopus, skate à la gallega and the best tortilla in Spain!). Furancho is the local Galician name given to informal eateries, grocery store, private houses or wineries that are open to the public to sell unbottled house wine, direct from the barrel or tank, together with simple, traditional food. They were originally created by wine producers to get rid of their excess production direct to locals.
Now in his early forties, Xurxo started off in 2006 with 2ha of family vineyards in Castrelo in the Salnés valley on sandy granitic soil, and unable to buy more vineyards due to exorbitantly high land prices (around E300,000-400,000 per hectare) rented a few more and also bought in small parcels of grapes from friends working well in and around the village – he now buys the equivalent of 6ha from 22 growers, using his own team to harvest the grapes.
In a humid maritime climate, Xurxo tries to be as respectful as he can to the soil and vineyards adopting an organic approach for his own vineyards. He vinifies and bottles his wines in several, cramped cellars behind the furancho, calling on a team of friends whenever he needs to bottle (these include a father and son whose livelihood entails the perilous harvesting of the Galician speciality barnacle 'percebes' that grow on rocks and cliffs around the sea-level), and they appear to be recompensed by way of a fantastic lunch cooked by Xurxo's mum.
Xurxo positively fizzes with energy and ideas to make ever-better wines in a way that reminds us of Julien Labet in the Jura, and this dynamism has taken him to the top of the tree of Galician winemakers.
He makes no less than 15 wines, most by specific parcel, with five albariños and a stunning range of zesty, red-fruited, low alcohol (11.5%!) reds from very old vine caiño, espadeiro, mencía, and even a barrel of the almost extinct white ratiño grape. He is constantly pushing forward, experimenting with completing malos (Alma de Mar albariño), a white wine made from the red caiño grape, a cuvée with no sulphur, and incredibly long lees ageing.
Albamar is one of only a handful (2%!) of domaines in the region using natural yeasts for their fermentation, which has a dramatic impact on both the aromatics and flavour of albariño, giving the wines much more depth, complexity and interest.
Bodegas Albamar Wines
Bodegas Albamar
RÍAS BAIXAS 2021
100% Albariño
(12.5% alc.)
This is made by Xurxo Alba, one of the most talented young winemakers in the region, well respected by fellow leading winemakers, who positively fizzes with energy and ideas. The vines come from many different plots, planted in sandy, granitic soils close to the Atlantic (in places 25m away) and his main production is of this delicious wine, one of the very few albariño in the region to be made via natural, indigenous yeasts. 95% cuve aged, and pressed from whole clusters, Xurxo didn't let the wine go through malolactic to preserve acidity. He's always looking for transparency, acidity and freshness, and this wine mixes a delicious mineral vibration with a dense core of fruit with a marked salinity on the finish.
Bodegas Albamar
RÍAS BAIXAS 2019
Sesenta e Nove Arrobas
Xurxo produces around 1,000ltr of this brilliant wine (equivalent to 69 arrobas, an old unit of measure), Luis Gutierrez's regular top-rated Rías Baixas albariño. Made from five parcels of vines from 50yo to over 100yo, this is the one and only white wine that's aged for almost two years on fine lees (stainless steel only) and bottled with no filtration. Subtle and rather discrete on the nose, it explodes into action on the palate, intensity and drive, with stewed lemons and apricots, mango, passion fruit, a saline and iodine mineral core, all beautifully relieved by acidity. It's worth adding that carafeing this wine works very well. For drinking now to 2029.
Bodegas Albamar
RÍAS BAIXAS 2020
Alma de Mar
One of Xurxo's top single-vineyard bottlings, this comes from 40yo vines planted right next to the ocean in a sandy clay weathered out from granite. Aged on the fine lees in stainless steel tanks with regular batonnages, malos completed and lower sulphur levels, this is an exceptional wine. Beautifully balanced, the nose is very perfumed, the flavours are deep and resonant, and the texture shows the impact of lees stirring. Quite austere at the outset with a print of granitic mineral flavour, this wine will age well – Xurxo enjoys it after four years in bottle. For drinking now to 2030.
Bodegas Albamar
RÍAS BAIXAS 2020
Pepe Luis
This bottling and label is a tribute to Xurxo's elder brother who sadly passed away. Five parcels of 40yo vines close to the Atlantic on sandy granitic soil. Direct press, fermentation and ageing in foudres on fine lees for a year. The élevage in Stockinger and old German (Mosel) foudres is well-judged, the wine is textural while retaining all its Atlantic character. Sapid and mineral, this is terroir-driven Rías Baixas at its best. A limited and sought-after production that will age well. For drinking now to 2028.
Bodegas Albamar
RÍAS BAIXAS 2019
O Esteiro
34% Caiño, 33% Espadeiro, 33% Mencía
(11% alc.)
Sourced from a multitude of miniscule plots of old vines (totalling about 0.5ha) on the typically sandy, granitic soils of the region, the whole bunches of grapes here were foot trodden in an open vat before transfer to old 228ltr barrels for a year and bottling unfined and unfiltered. All three of Xurxo's reds are made the same way, they have low alcohol levels and pale red colours more akin to Jura reds but will startle with the energetic freshness and purity of their fruit. Here for example you'll find a wine with a shade more colour than the caiño below, with a slightly riper mouthfeel, darker fruits and an irony quality from the mencía, a touch of balsamic and spice plus herbal twist on the mineral finish. Like poulsard, Galician reds are incredibly versatile food-wise.
Bodegas Albamar
RÍAS BAIXAS 2019
Capitan Xurelo
34% Caiño, 33% Espadeiro, 33% Mencía
(11% alc.)
A red blend first produced in 2015, Xurxo pulls together this wine from the barrels that have the most attractive, forward fruit otherwise destined for the more structured O Esteiro red. Xurxo (or Xurelo) is known as 'El Capitan' all over Spain, a nickname given by his mates and symbolising Xurxo's energy and enthusiasm. It's only sold to friends and local restaurants but we persuaded him to make an exception for us. Supple and easy to drink with a spicy and tangy fruit, pure pleasure!
Bodegas Albamar
RÍAS BAIXAS 2016
O Esteiro Caiño
There are less than 1% of red grape vineyards in Rías Baixas and just two barrels were made from very old vines (even Xurxo's grandmother could not recall their age!) of caiño da terra, longo and redondo. A light raspberry juice in colour, it shows sour cherries on the nose, following through on the palate with redcurrants, cranberries and black pepper. A subtle wine with low alcohol and silky fine tannins on the mineral infused finish. You won't find many reds around the world that go better with shellfish (e.g. fresh crab) and fish with stronger flavoured veg or sauces.
Bodegas Albamar
RÍAS BAIXAS 2016
O Esteiro Espadeiro
100% Espadeiro
(11.5% alc.)
And finally, we arrive with the rarest of all red grapes planted in Galicia (apparently also known as Camaraou Noir in Jurançon and Béarn where it has almost disappeared), and Xurxo has produced just one barrel of 300bts from ancient vines. This wine has an exquisite delicate red colour, red berry perfume that puts you more in mind of pinot noir, and is juicy, fresh and vivid with balsamic notes, an attractive spice and grainy edge.