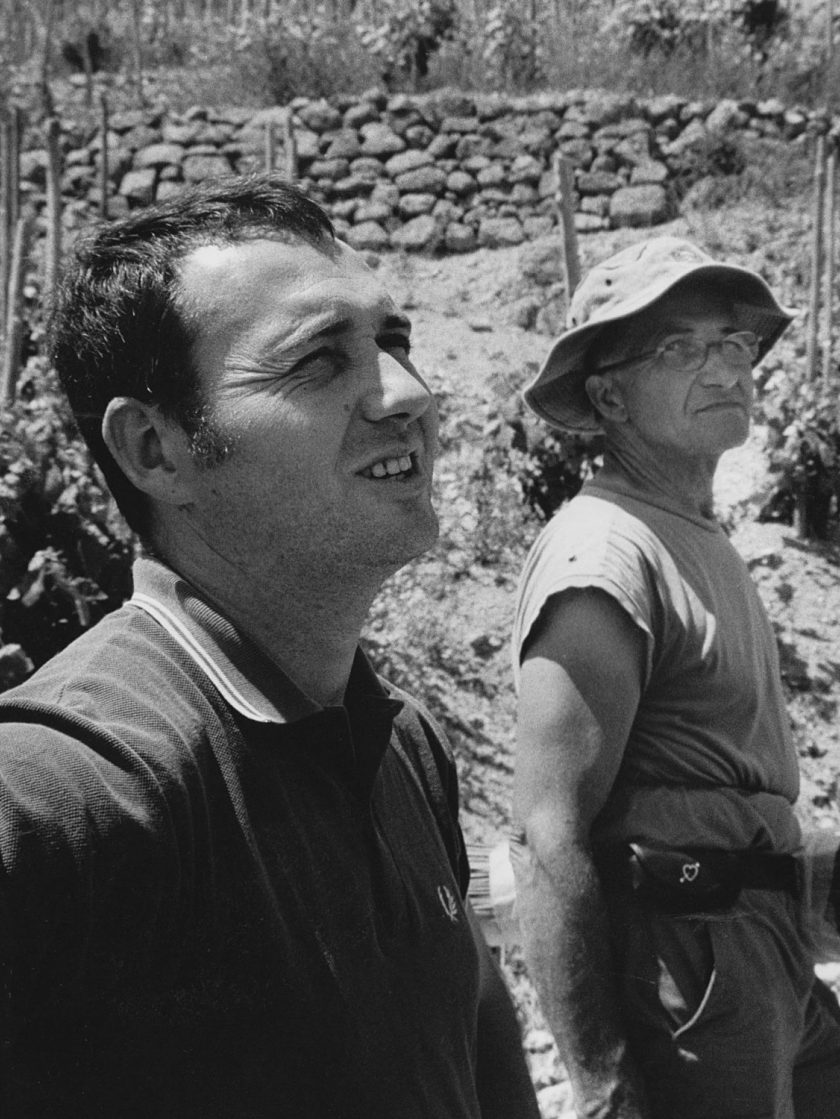 Bernard Gripa
| | |
| --- | --- |
| Vigneron | Fabrice Gripa |
| Location | Mauves (Ardèche) |
| Size of Domaine | 17.6 ha |
| Terroir | Continental climate, Mistral (northern wind) influence. Granite, Gneiss (St Joseph) and loess, clay-limestone (St Péray) on steep terraced slopes. 150-250m altitude. |
| Viticulture | Soils are ploughed, no herbicide or insecticide, sulphur and copper against mildew/oidium although fungicide might be used in case of extreme pressure. |
| | View Bernard Gripa wines ↓ |
Based in Mauves, Gripa is one of the old-line domaines in the heart of the original St-Joseph appellation with vines in Mauves and Tournon. The Gripa family have been winemakers here since the 17th century with Bernard commencing bottling of the domaine's own wine in 1974. Bernard is a very thoughtful vigneron, always with an insightful perspective on the local winemaking scene. Now in his seventies, he is happiest when working and is still in charge of ploughing their vineyards. After working in vineyards around the world including a stint with Leeuwin Estate in Margaret River Australia, Bernard's son Fabrice took over the winemaking reins in 1997.

Very unusually in the Northern Rhône, the 17.6ha of vineyards owned by Fabrice and Bernard Gripa comprise a majority of white grapes, with 9.05ha of marsanne and roussanne split 4.95ha of St-Péray and 4.10ha St-Joseph, together with 8.55ha of St-Joseph red.

In each appellation, there are two cuvées, a general blend, and a selection from the best plots (called Le Berceau for St-Joseph in both red and white, and Les Figuiers in St-Péray). Not surprisingly with such an important holding the whites are a speciality here – most of the best northern Rhône growers have less than 10% of white grapes, and all their expertise, equipment and cave favour red production, with their whites often tasting too alcoholic and heavy, lacking acidity and with too much sulphur. By contrast, Fabrice has really focused on making white wines with better balance, freshness, lower sulphur and perfectly in harmony with their oak élevage (in either fûts or more often demi-muids), and the three different cuvées are right up amongst the finest whites in the region.
The big difference between St-Péray and the white St-Joseph is, of course, the soils, with granite for St-Joseph and loess, clay and Jurassic limestone at St Péray, where the wines always have an extra lick of acidity (and markedly lower ph levels of around 3.40). Usually, after five years the fruits of all the whites start to close down, and savoury almost herbal notes appear, a bit sooner for a hot vintage, a bit later for a cool vintage. Fabrice likes to drink their whites at around four years old but they age magnificently, becoming even more savoury and mineral around their tenth year.
The reds are grown on the terraced hillsides of Mauves and Tournon on complex primary soils of granite and gneiss. Fabrice and Bernard foot tread the grapes (retaining around 20% whole bunches) in open wooden vats, and after a gentle fermentation, with much less pigeage carried out than in the past, the wine is aged in demi-muids. Like the whites, Fabrice prefers the reds younger at around five years old and comments that he finds syrah less interesting after ten years than earlier. The St-Joseph red can initially be a little tight on release, but after 3-4 years becomes fragrant, mineral, and precise.
Bernard Gripa Wines
Bernard Gripa
ST-PÉRAY 2020
Les Pins
80% Marsanne, 20% Roussanne
(14% alc.)
This comes from 40yo vines in a limestone soil with granite base and is now aged 100% in oak, mainly in 6-7yo 600ltr demimuids. Peachy with a hint of acacia, it has a lovely purity.
Bernard Gripa
ST-PÉRAY 2020
Les Figuiers
60% Roussanne, 40% Marsanne
(14.5% alc.)
This is Gripa's top St-Péray made from vines averaging 60 years and aged in new to 5yo barrels and demi-muids. It has an extra dimension of richness, fine greengage and peach aromas, and retains the appellation's characteristic mineral print. For drinking now to 2030.
Bernard Gripa
ST-JOSEPH 2019
80% Marsanne, 20% Roussanne
(14% alc.)
Produced from 30yo vines on hillside terraces between Mauves and Tournon, Fabrice Gripa's Saint-Joseph white is typically a little richer than his Saint-Péray (where there is more limestone in the soil) with a good bright gold colour. It offers an attractive hint of menthol and almond on the nose, is fresh and balanced on the palate, with mineral, spice and marsanne bitterness on the finish. The élevage is spot on (almost entirely in 600ltr demi-muids of which just 8% are new), and Fabrice has once again produced a wine with perfect balance – far from easy to achieve with whites from the northern Rhône these days. For drinking now to 2029.
Bernard Gripa
ST-JOSEPH 2019
Gripa's red comes 90% from vines planted in Tournon. Given a three days cold soak, then foot-trodden in open wooden fermenting vats at the start of the fermentation, it was aged in a mix of new to ten years old demi-muids (60%) and fûts (40%). Made from 25% whole bunches, it has good depth with delicious black cherry fruit, liquorice, hint of black olive/grilled meat with fine-grained tannins and an irony relief on the palate. For drinking now to 2025+.