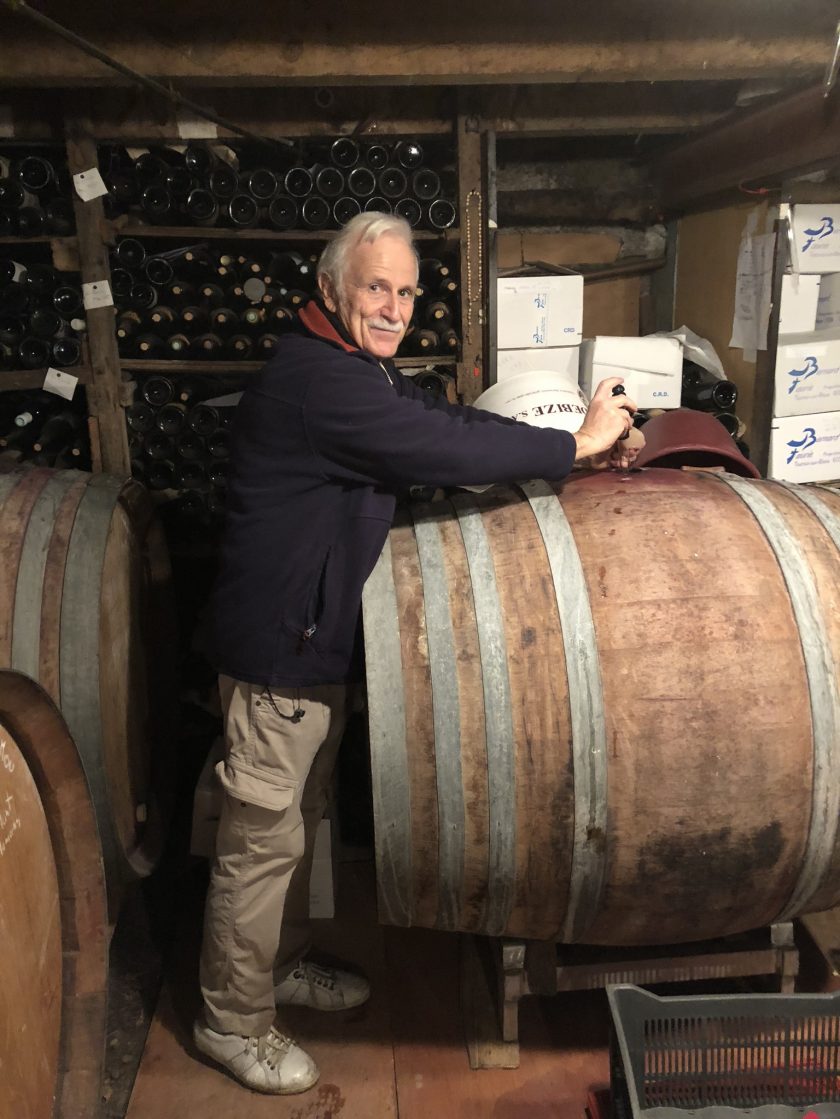 Bernard Faurie
| | |
| --- | --- |
| Vigneron | Bernard Faurie |
| Location | Tournon-sur-Rhône (Ardèche) |
| Size of Domaine | 1.7 ha |
| Terroir | Continental climate, Mistral (northern wind) influence. Alluvium and Rhône pebbles in Les Greffieux, granite in Les Bessards, schist, alluvium in Le Méal. Steep south-facing terraced vineyards overlooking the Rhône. Around 300m altitude. |
| Viticulture | Soils are ploughed, no herbicide or insecticide, sulphur and copper against mildew/oidium although fungicide might be used in case of extreme pressure. |
| | View Bernard Faurie wines ↓ |
Bernard Faurie has just 1.7ha of very old petite sérine vineyards on the prime sites of the Hermitage hillside and is a local legend.
He is an eccentric's eccentric, meticulous and fastidious (he rinses his pipette with a jet wash at least four times before drawing wine from any barrel). He has two full-time employees working his Hermitage vineyard, having divested himself six years ago of his St Joseph holdings to his son-in-law Emmanuel Darnaud. He uses no chemical weed killers, preferring to plough the soil using a horse.

Using tiny cellars underneath his house on the outskirts of Tournon, everything is done with fine touch in an unhurried way. He has always used 100% whole bunches for the fermentation and the oak regime of new to 6yo 600ltr demi-muids suits the wines perfectly. More than a few top growers in the northern Rhône have commented to us that they believe that in certain vintages Bernard's red Hermitage are as good as those of Jean-Louis Chave. They are prized wines that for now offer extraordinary value.
He makes two cuvées regularly – the elegant, more forward Greffieux-Bessards, and the dense, powerful, long-lived and supremely stylish Bessards-Méal. He will also occasionally bottle off a demi-muid of pure Bessards (he did so for the first time in 2015) and a pure Méal. It is worth noting that Bernard operates a unique cuvée identification system, all the wines have the same label but G-B has a white foil, B-M a gold foil, and the Méal is gold with M stamped on - all have individual lot numbers if you ever wish to double-check a cuvée directly with Bernard!
For the last seven years Bernard has talked about retiring and moving away to enjoy the mountain air in the Alps (and off-piste skiing through the woods, nothing could be more perfect according to him). And sadly, after the recent death of his main vineyard worker – who had been with him for decades – he has decided that enough is enough, and that the 2020 vintage will be his last. It's likely that his vineyards will be passing to his son in law Emmanuel Darnaud.

Bernard Faurie Wines
Bernard Faurie
HERMITAGE 2013
Les Greffieux - Bessards
Les Greffieux is a lieu-dit where the soils mix alluvial Rhône stones and decomposed granite; Bessards, where the soil is granitic, provides structure and backbone. The vines average 80yo and produced a perfectly balanced wine with great texture, raspberry and black fruit, iron, hint of black pepper and fine-grained tannins. For drinking now to 2028.
Bernard Faurie
HERMITAGE 2013
Bessards - Méal
Bessards and Méal produce a richer, more long-lived wine which takes longer to unravel. You can taste gorgeous rich, black cherry and mulberry fruit, with liquorice, spice, graphite and pepper, all the time beautifully focused. Exceptional wine that merits a place in the cellar of any wine lover. For drinking now to 2030.