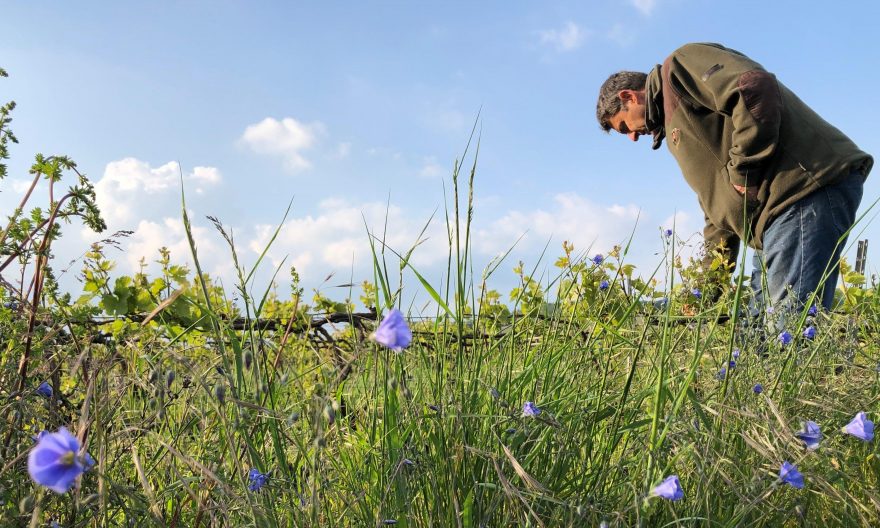 Benoît Lahaye
| | |
| --- | --- |
| Vigneron | Benoît and Valérie Lahaye |
| Location | Bouzy (Marne) |
| Size of Domaine | 4.8 ha |
| Terroir | Continental climate with Oceanic influence. Clay-limestone soil on chalk bedrock. South-facing slopes. 120-180m altitude. |
| Viticulture | Certified organic (Ecocert) biodynamic (Biodyvin) |
| | View Benoît Lahaye wines ↓ |
Benoît and Valérie Lahaye make quite exceptional champagnes from superb terroirs, including four single-vineyard champagnes. They have just 4.8ha of vines in Bouzy and Ambonnay that they work together with their two sons, and an incredibly muscular horse called Tamise used for ploughing to avoid compaction of the soils.
Since changing to biodynamic viticulture in the late 2000s the most notable benefit has been that the grapes attain higher levels of ripeness whilst retaining the same level of acidity. As the grapes regularly give 11% alcohol for the first fermentation and there is a natural density to the juice, most of their champagnes are now disgorged without dosage and since 2008 they have carried out the malolactic fermentations.
"It was planted more or less indiscriminately in the 1920s and even when my grandfather replaced some of the vines in 1952, we don't really know what he planted."
This made the champagnes more user-friendly, easier to drink with a purer fruit, as it enables greater exchange between the lees and the wines, giving a better depth of fruit, structure and mouthfeel. They also age all their champagnes in oak (except for the rosé) which again adds a little extra complexity. Benoît is a very thoughtful, curious vigneron, who works with touch and feel, for example using either corks or caps for his vintage champagne entirely dependent on the strength and structure of the initial wine, with more structured vintages aged under cork and richer vintages under cap. He has also isolated indigenous yeasts from different vineyards and tested their influence on flavour and aromatics by vinifying three barrels of the same wine using different strains in two barrels and one with the vineyard's natural mix – this experiment proving that the impact of yeasts on wines flavours is quite marked, but underlining that a natural mix of native yeasts tends to work best.
He never uses sulphur at disgorging, and after several experiments, now bottles one cuvée Violaine with no sulphur used at any stage. Total sulphur levels throughout the range average a very low 15mg/l. The range otherwise comprises a non-vintage Brut Nature, a vintage-dated Blanc de Noirs from Bouzy vineyards, a superb Rose de Saignée, and perhaps the most striking champagne, Le Jardin de la Grosse Pierre, a single-vineyard of co-planted vines in Bouzy started off by his grand-father in 1927, that includes all seven of Champagne's permitted grape varieties plus tiny amounts of grapes like teinturier, fromenteau and gros plant. Lahaye himself doesn't even know what varieties are planted there or how many there are: "It was planted more or less indiscriminately in the 1920s" he says, "and even when my grandfather replaced some of the vines in 1952, we don't really know what he planted." Finally, just to mention a new cuvée, a no sulphur Blanc de Blancs made from a minuscule 0.12ha parcel called Les Mont-Ferrés in Voipreux near Vertus.
Benoît Lahaye Wines
Benoît Lahaye
BRUT NATURE
Grand Cru
90% Pinot Noir, 10% Chardonnay
(12% alc.)
This comes from Grand Cru rated vines in Bouzy and Ambonnay averaging 30yo. They are planted on brown clayey soils that vary from 40cm to 1.5 meters in depth. Based at 55% on the 2017 vintage, the reserve wines are from 2016 and 2015. It was initially aged in 2-5yo barrels and then given two and a half years bottle ageing on the lees before disgorgement in September 2020 without dosage. Very expressive on the nose, the palate has depth and richness balanced with attractive bitters on the finish. A stunning wine from prestigious vineyards representing amazing value for money.
Benoît Lahaye
BLANC DE NOIRS (2018)
Bouzy Grand Cru
100% Pinot Noir
(12% alc.)
This comes from Grand Cru rated vines of 25yo, lieu-dit Cercets where chalk is more present than in the parcels used for the Brut Nature. It was initially aged in 2-5yo barrels before spending some time 'sur lattes'. More structure, depth and power here due to the presence of chalk, with notes of dried fruits, ripe apricot and citrus fruits, the lengthy saline finish features salivating bitters. Disgorged 10/20 - Dosage 4g/l.
Benoît Lahaye
ROSÉ DE MACÉRATION (2018)
Bouzy Grand Cru
100% Pinot Noir
(12% alc.)
Made from 35yo vines, lieu-dit Les Juliennes in Bouzy, the whole bunches macerated for 2.5 days before being pressed. The wine aged 50% in amphora and 50% in 300ltr barrels with completed malos, this has intensely fragrant strawberries and raspberries with a hint of rose on the nose, a seriously vinous and terroir-driven rosé with an incredibly sustained finish – the perfect champagne for versatile food and wine pairings. Disgorged 10/20 - Dosage 3g/l.
Benoît Lahaye
VIOLAINE 2015
50% Chardonnay, 50% Pinot Noir
(12% alc.)
Vinified, aged and bottled without sulphur, Violaine comes from parcels on the Tauxières and Bouzy border with shallow clay soils (30-35cm) over a deep chalky bedrock. Quite flat, the windswept vineyards were planted in 1990, and like most of Benoit's wines, this was fermented and aged in oak for 10 months prior to bottling and ageing 'sur lattes'. Vividly expressive with notes of pears, lemon oil, and exotic fruits, the mousse is fine and gentle (just 22g/l for the second fermentation), there's incredible energy on the palate and chalky dry extract bringing a tannic dimension to the layered mineral infused finish.
Benoît Lahaye
MILLÉSIME 2013
Bouzy Grand Cru
85% Pinot Noir, 15% Chardonnay
(12% alc.)
The 45yo vines are from the prime Bouzy lieu-dits of Monts de Tauxières and Haut des Argentieres. Fermented in 5yo 225ltr barrels with malolactics completed, the champagne was bottled off under cork without filtration in July 2014. Disgorged in November 2018 with a 4g/l dosage, it shows a tense, vinous depth of red fruits, the texture is silky and explosive with an extraordinary amplitude. It is a classy wine combining power and refinement with an excellent, fine beaded mousse and food-friendly chalky bitters on the finish – quintessentially Bouzy! VLQ.
Benoît Lahaye
JARDIN DE LA GROSSE PIERRE 2016
Bouzy Grand Cru
Pinot Noir, Pinot Meunier, Chardonnay, Pinot Blanc, Arbanne, Petit Meslier, Fromenteau, Gros Plant, Teinturier + others!
(12% alc.)
The vines here are co-planted starting off in 1927 by Benoit's grandfather (who called an orchard he also planted here La Grosse Pierre), on a south-west facing hillside towards the base of Bouzy near the Chemin de Tauxières. Aged in 3-5yo barrels with just a touch of SO2 added at the press (17mg/l), only 1,500 bottles were made. It's quite a startling champagne – complex, distinct and richly fragrant with savoury, umami notes of green tea and wild herbs, it also has an incredible depth of energetic and expressive fruit. Disgorged 10/20 - Non dosé.
Benoît Lahaye
BLANC DE BLANCS
Voipreux 1er Cru
100% Chardonnay
(12% alc.)
This is a confidential cuvée coming from a small holding in the village of Voipreux (between Le Mesnil-sur-Oger and Vertus) in the Côte des Blancs. For now Benoît prefers to blend it and will not make this champagne every year. The vines here are 62yo (they have been ploughed by horse since 2010) and planted in shallow soil of clay and limestone with chalk at depth, giving grapes that are always healthy (never any rot) and ripe. It is made of equal parts 2014 and 2015 (the next version will be 16/17), aged in barrels for two years and one year respectively before being assembled and bottled off, then disgorged in late 2018 with zero dosage. No sulphur has been used at any stage. It is a notably spicy, dense, ripe champagne imbued with a rare sense of energy and vigour.
Benoît Lahaye
CÔTEAUX CHAMPENOIS 2015
Bouzy Rouge
100% Pinot Noir
(12.8% alc.)
Grown in three of Lahaye's oldest parcels (50yo) planted on mid-slope in the 'coeur de terroir', this floral, structured and mineral Bouzy Grand Cru is, as per Peter Liem, "not only one of the best examples of Bouzy Rouge but also one of the best still red wines in all Champagne." Destemmed by hand using a perforated wooden plank, the intact berries ferment in a gas-filled amphora for a month before pressing, and the wine is then aged in old 228l barrels for a year before bottling with the addition of 20mg of sulphur. It has a vibrant spicy nose, beautiful dynamic on the palate, and a distinct juicy peppery quality. VLQ.