Augalevada
| | |
| --- | --- |
| Vigneron | Iago Garrido |
| Location | San Clodio (Ourense) |
| Size of Domaine | 4 ha |
| Terroir | Atlantic climate with continental influences. Granite and jable (granitic sand). Stony terraces on 100m height difference. SE exposition. 300m altitude. |
| Viticulture | Certified biodynamic (Demeter) |
| | View Augalevada wines ↓ |
We were introduced to Iago Garrido by Laura Lorenzo (Daterra Viticultores) during the Vitis Vinifera wine fair and Cuvée 3000 anniversary (a big fiesta that was…) in Barcelona back in 2017. His wine's energy and digestibility struck us, a welcome 'pick me up' towards the end of a hectic day of tasting, drinking and eating. When meeting Iago one can easily draw a parallel between his sensitivity, humility, kindness and the astonishing purity of his wines.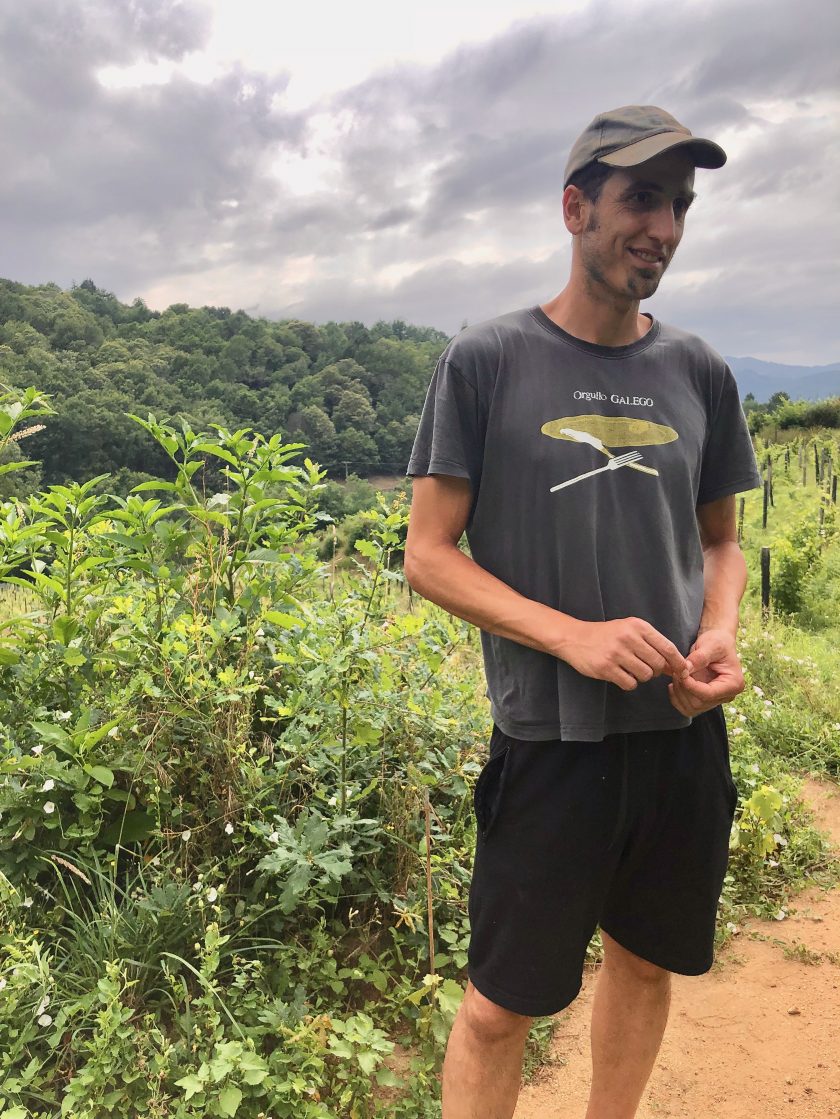 Augalevada was created in 2009 and takes its name from a stream passing right through the middle of the farm. Iago fell in love with an abandoned slope, tucked in a valley, behind the ancient Monasterio de San Clodio. He purchased just over 4ha, built a winery on-site and planted 2.5ha of vines, spread over the granitic terraces, struggling against an invading forest.
Having studied agricultural engineering, Iago became fascinated with permaculture at a young age and Augalevada is the first biodynamic certified (Demeter) winery in the history of Ribeiro; Galician cows chew on the lush grass, chickens roam through the vines while diverse orchard trees and a vegetable patch feed Iago's family.
Disappointed by the monolithic expression of the first planted godello and treixadura, Iago decided to start over again, grafting the ancestral white variety agudelo (some locals reckon it is linked to chenin), as well as the reds sousón and caiño de la tierra (different from the longo and redondo varieties).

The Augalevada farm is in the north of the Ribeiro DO, not far from the Avia river, in the Rioboó zone once famous for its reds. The stream (levada) is an undeniable advantage in this warm area creating a cool airflow during the hot summers.
Iago built his cellar digging into the granitic hill over three floors allowing for gravity during winemaking. He ages his wines in 500ltr and 600ltr barrels as well as tinajas made by the master Juan Padilla (Villarrobledo), buried underground in the cellar basement, each amphora and barrique develop its flor and brings out different traits to the wines. SO2 is only added at bottling reaching a low 20-25mg/l total.
Augalevada is one of the most progressive wineries in the whole of Spain working on the restitution of a historical and incredible terroir; we are convinced that Iago's sensitivity towards nature and attention to detail will take him far.
Augalevada Wines
Augalevada
MERCENARIO 2017
Vino de Mesa
50% Treixadura, 20% Albariño, 15% Palomino, 10% Caíño Branco, 5% Torrontés
(11% alc.)
The wines labelled Mercenario are made from grapes bought in different Galician DO, from like-minded growers practising sustainable farming. This wine is a Ribeiro and the grapes come from three vineyards in the southern part of the DO, south of Ribadavia, around the Miño river. The different varieties are directly pressed together, native yeasts trigger fermentation in stainless steel and the wine ages mostly in barrels and 400ltr tinajas. Texture and sapidity characterize this Mercenario. Its well-integrated VA and savoury deliciousness make a convincing case for umami in wine.
Augalevada
MERCENARIO PARCELA EIRAVEDRA 2017
Vino de Mesa
One of Iago's Mercenario wines, Parcela Eiravedra is a single vineyard in Rías Baixas (Val do Salnés) and Iago managed to get hold of the grapes thanks to his extremely well-connected friend Xurxo Alba (Albamar). Aged both in tinajas under flor and old barriques this wine is built around acidity and shows great vitality with lingering citrus flavours and incisive minerality.
Augalevada
MERCENARIO PARCELA SANDURIÑAS 2017
Vino de Mesa
Mouratón, Mencía, Sousón, Garnacha, Tintorera, Palomino, etc
(11% alc.)
Parcela Sanduriñas is an 80 to 100yo single vineyard of 0.6 ha in Ribeira Sacra (in the sub-zone of Chantada), co-planted with many native grape varieties. Only 2,000 bottles were produced, fermentation was carried out in an open plastic vat where whole grapes were foot trodden and then 'massaged' by hand over days for light extraction. The pressed wine filled up two tinajas and a demi-muid and was then given seven months ageing. This nuanced red wine is pure joy with striking fresh aromas of watermelon, yellow peach and menthol. Its lifted flavours and high drinkability will please many Jura lovers!