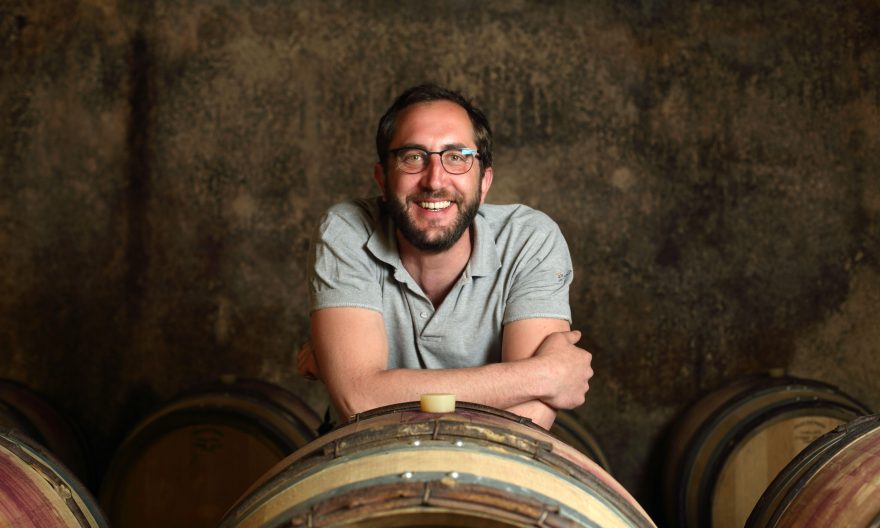 Antoine Lienhardt
| | |
| --- | --- |
| Vigneron | Antoine Lienhardt |
| Location | Comblanchien (Côte-d'Or) |
| Size of Domaine | 6 ha + 1.5 ha négoce |
| Terroir | Continental climate. Clay-limestone marls and some alluvial soils on mid-Jurassic (Bajocian and Bathonian) limestone bedrock. Gentle slopes up to 10-15% gradient. 250-300m altitude. |
| Viticulture | Certified biodynamic (Biodyvin) |
| | View Antoine Lienhardt wines ↓ |
We are thrilled to start working with Antoine Lienhardt, whose wines impress us every time we taste, or more accurately, drink them to the last drop. Antoine's cave and house are located in the village of Comblanchien (just to the south of Nuits-Saint-Georges), a village best known for its quarries – the source of its eponymous pink and 'café au lait' hued limestone – although it also has a long viticulture history. Antoine's progressive farming and fine touch as a vigneron are certainly helping to put the village back in the spotlight.

He took the reins of his family's 6ha domaine in 2011 – with his sister Héloïse joining in 2017 – and had previously cut his teeth for four years at Amiot-Servelle in Chambolle-Musigny, with shorter stints in Chablis and South Africa.

Convinced that Comblanchien terroirs are hugely undervalued, Antoine believes that if the hierarchy of Burgundy were ever to be reclassified there would, without doubt, be 1er Cru vineyards in its most superior sectors. Looking at the village from a geological and viticultural perspective, it runs directly into the Nuits-Saint-Georges 1er Cru of Clos de La Maréchale at its northern end, and it shares a similar topography: a narrow hillside band of vineyards facing east backed by a steep limestone scarp – there's certainly logic to Antoine's views. And, given the fine mineral imprint of his wines, one must conclude that the sole reason why Comblanchien wines are classed as Côte de Nuits Villages (and not under their own appellation) is that the total production from the village's 59ha of vines is simply too small. Comblanchien can indeed produce wines way above the quality of certain larger villages with appellations, and it's close in style and quality to Nuits-Saint-Georges itself!

Antoine is very fortunate to have a clutch of old plots – 60-80yo vines planted by his grandfather Maurice. He also buys a few parcels of grapes from like-minded friends in the region, and of prestigious terroirs from which he particularly loves the wines. Dynamic, restless and fizzing with energy, Antoine's sense of humour ensures a happy bunch of workers out in the vineyard and at harvest.


From the beginning he has held firm environmental convictions: to preserve the life in his soils and respect nature's cycles, together with the biological life of his vines and the surrounding ecosystem. Antoine earned organic certification in 2019 and is now farming biodynamically (Biodyvin). He prefers to minimally disturb the soils and when shallow ploughing takes place, it is with a horse to minimise compaction. Pruning is severe, with a goal of about around 35hh. He is now engaged in raising the trellising in his vines from 1m to 1.80m – the start of which involves hammering over 4000 acacia posts into the ground! The aim is to avoid hedging and cutting the vine's apex shoot (very stressful for a vine) and provide more shade for the grape bunches.
Great attention is paid to harvest fruit that is physiologically ripe but also maintains an energy and vibrancy that will carry into the final wine. He practises whole bunch fermentation, short and gentle macerations between 5-10 days, and all his wines are vinified without sulphur. Barrel ageing (sometimes part egg-shaped cement vat) lasts for up to 10 months at which point the wines are bottled relatively early to preserve the purity and exuberance of the fruit. A minimal 10mg/l of sulphur is added pre-bottling. It's interesting to note that Antoine is a close friend of Julien Labet and the pair regularly share knowledge on both viticulture and winemaking.
There's an appreciative and far reaching clamour for the wines, as sales are already established in over 20 countries. Lienhardt wines have a drive, energy and class that command your attention immediately. Antoine recommends decanting if you drink them young and our best advice is to do just that – get stuck into these delicious wines in their youth. They are superb value for money too!
Antoine Lienhardt Wines
Antoine Lienhardt
CÔTES DE NUITS VILLAGES 2021
Les Plantes aux Bois
100% Pinot Noir
(12.5% alc.)
This is Antoine's finest single vineyard wine, and his largest parcel, unusually planted north to south in a prime location on a gentle, 20% east-facing slope with a shallow topsoil and deep limestone below. The vines are between 50-70yo, and the wine was given a 10 months élevage in 1-7yo barrels. A beautiful limpid colour, throughout there are lovely, tart red fruit tones that are open to interpretation: redcurrant, blackberry, tart cherry. It's almost beside the point because each whiff, every sip, seems different. Around the edges, the wine's aromas also recall spring (peonies) and autumn leaves at different intervals. But it is the exuberant acidity, delicate and playful tannins, and fierce saline minerality on the finish that make this wine so refreshing, enjoyable and impeccably versatile at the table.
Antoine Lienhardt
CÔTES DE NUITS VILLAGES 2021
Emphase
100% Pinot Noir
(12.5% alc.)
Antoine's top wine comes from old vines (70-85yo) from all seven of his terroirs within Comblanchien (principally Plantes au Bois, Essards and Aux Vignottes). The soils are a mix of clay, limestone and sand, stony in places, both from hillside vineyards and on the flat. Made from whole bunches it was given a 10-month élevage in one third cement egg and two thirds older 228 and 500ltr barrels. It has a slightly deeper colour (compared to Les Plantes Aux Bois), gorgeous sour cherry fruit with floral almost potpourri hints. There's real energy and power to the wine, a good mineral vibration, and supple, ripe tannins.
Antoine Lienhardt
NUITS SAINT GEORGES 1ER CRU 2020
Aux Thorey
100% Pinot Noir
(13% alc.)
The excellent 1er cru Aux Thorey (sometimes spelt Torey – both are permitted) has fine gravelly soil overlying oolitic limestone that has broken down from the hillside above. The vineyard is gently sloping, superbly exposed to both south and east, in similar fashion to Gevrey's Clos St-Jacques, and lies at the northern end of the village next to Vosne Romanée. Antoine likes to buy grapes from friends in the region and from vineyards with special appeal, so he naturally jumped at the chance to buy a small lot of organically certified old vine grapes from this fine location – from which he has made a single barrel on a one-off basis. There's a lot of class from this excellent 1er Cru and we can clearly see why Antoine is so excited. Using 100% whole bunches, it has a beautiful purple colour, it's racy and dynamic with flavours and aromas of wild berries, spice and hints of peonies, medium bodied with fine depth of fruit, ripe tannins and a long finish.