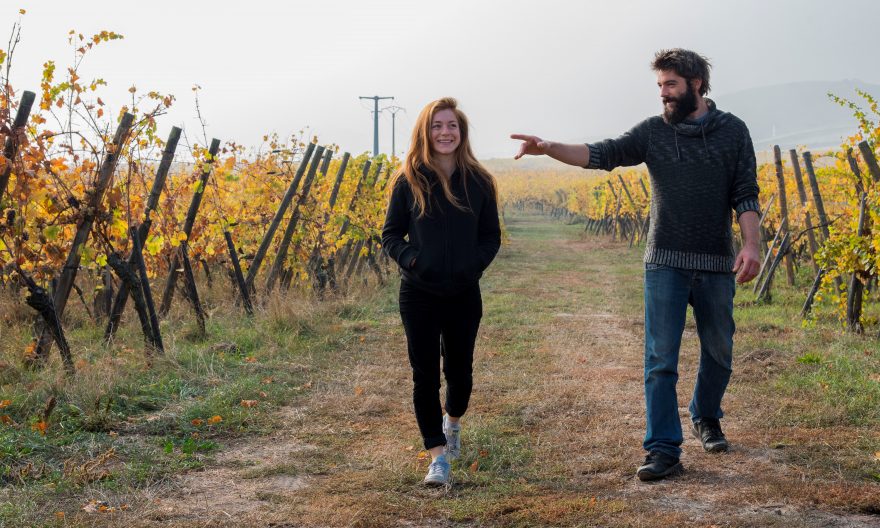 André Thomas
| | |
| --- | --- |
| Vigneron | François, Gilles and Suzy Thomas |
| Location | Ammerschwihr (Haut-Rhin) |
| Size of Domaine | 6 ha |
| Terroir | Continental climate, sheltered from rain by Vosges mountains. Sandstone, granite, clay-limestone. Hillside vineyards, gentle to steep slopes. 300-350m altitude. |
| Viticulture | Certified organic (Ecocert), practising biodynamic and permaculture. |
| | View André Thomas wines ↓ |
Family history here dates back to 1850 but domaine bottling only started in 1965 under André Thomas.
Son Francois took over in 1985 and was one of the first early convertees to organic viticulture in 1997. His work in the vineyard is fastidious and he uses a horse to plough between the vine rows on the steep hillside of Kaefferkopf. He was joined by his son Gilles in 2012 and four years later by his daughter Suzy. They want to carry on their father's work and go even further in their ecological approach. Creating more biodiversity in this monocultural landscape is an obsession, the ultimate goal being to recreate an environment that closely mimics the vines' natural habitat so they can be more independent and less reliant on organic treatments to fight off pests and diseases.
Francois has given them the freedom to produce a few cuvées as they wished, and they opted for fermenting the wines in old oak foudres, giving them a longer élevage, with no filtration and no sulphur whatsoever. It's a very exciting move – we've bought one of these wines, an old vine Pinot Blanc 'Sand', and we're confident that this domaine will continue to progress.
André Thomas Wines
André Thomas
SAND 2016
100% Pinot Blanc
(13% alc)
François Thomas has now been joined by his son and daughter, Gilles and Suzy, and they have been given the freedom to produce a few cuvées as they wish. This is one, a fine pinot blanc from 50yo vines on the famed hillside of Kaefferkopf (Sand is the name of the lieu-dit) where there is a sandy topsoil derived from the granitic mother rock. They have aged the wine on its fine lees in old foudres for a year, without adding sulphur at any point, and bottled it unfined and unfiltered (there is the tiniest touch of haze in the pale gold colour). There is a reserve on the nose initially, but acacia honey notes gradually emerge, and on the palate, it has a fine depth of confit citrus fruit. An excellent natural wine.
André Thomas
PETITS GRAINS 2016
100% Pinot Gris
(13.5% alc, 28.7g/l of rs)
Aromas fairly leap out of the glass. It's a rich yet restrained wine with pear, apples and exotic fruit flavours with a hint of spice.