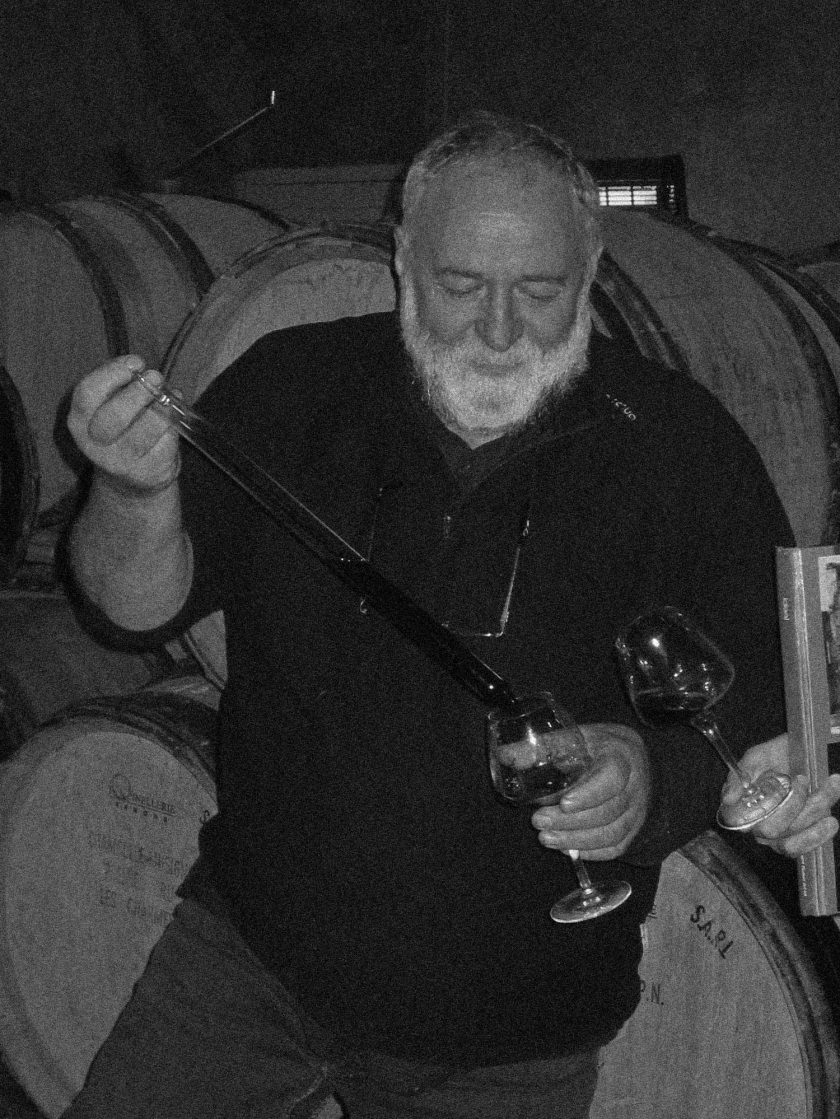 Amiot-Servelle
| | |
| --- | --- |
| Vigneron | Christian, Antoine and Prune Amiot-Servelle |
| Location | Chambolle Musigny (Côte-d'Or) |
| Size of Domaine | 6.5 ha |
| Terroir | Continental climate. Clay-limestone marls and some alluvial soils on mid-Jurassic (Bajocian and Bathonian) limestone bedrock. Gentle slopes up to 10-15% gradient. 250-300m altitude. |
| Viticulture | Certified organic (Ecocert) |
| | View Amiot-Servelle wines ↓ |
Domaine Amiot-Servelle is a close family concern with 6.5ha in and around Chambolle-Musigny. Christian, solidly-built and bearded, is the son of Pierre Amiot, and married Elisabeth Servelle in 1975, subsequently working at her father's domaine (Servelle-Tachot) until his passing in 1989, renaming the property Amiot-Servelle thereafter. They have now been joined by their children Prune and Antoine.
Their portfolio has been recently expanded with the addition of two Grand Crus (Charmes-Chambertin and Clos Saint Denis) that had previously been leased to Christian's brothers. The family presides over an enviable portfolio (now stretching to wines from 12 appellations) that centers around Chambolle with choice premier crus such as Charmes and Amoureuses.
They converted their vineyards to organic in 2003 becoming certified in 2008 and their winemaking tenets are fairly straightforward with partial destemming depending on each cuvée. They practice gentle remontage or pigeage according to taste during cuvaison and there is modest use of new oak varying from 15 to 50% according to the wine. Quantities are small with some Chambolle premier crus limited to just two barrels, often one new and one used.
Their wines demonstrate immense purity of fruit, are deeply resonant with superb terroir expression, initially firmer in the mouth and imbued with a sense of nascent energy and tension. They are wines that age particularly well.
Amiot-Servelle Wines
Amiot-Servelle
BOURGOGNE 2015
100% Pinot Noir
(13.5% alc.)
This comes from 1.5ha near the RN74 east of Chambolle-Musigny. Using just 10% new oak (with the balance up to 4yo), this wine has a nose of earthy, dark berry fruit and a silky quality on the palate. Serious wine at this level. For drinking now to 2023.
Amiot-Servelle
MOREY-SAINT-DENIS 2016
100% Pinot Noir
(13% alc.)
This very good value cuvée comes from 0.46 ha of vines averaging 45yo in the lieux-dits of Clos Solon and Les Bras (one to the west and one to the east of the D974) where the soils are red and pebbly with a limestone base. It offers a crisp blackberry and raspberry-scented bouquet with light undergrowth/tobacco aromas. The palate is medium-bodied with a gentle grip on the attack. For drinking 2020 to 2026.
Amiot-Servelle
CHAMBOLLE-MUSIGNY 2015
100% Pinot Noir
(13.5% alc.)
This wine comes from eight parcels of vines around the village ranging from 15-70yo. It offers very clear-cut red fruit flavours, a refreshing acidity, a notable mineral influence and finishes ripe with good tannins. For drinking now to 2025.
Amiot-Servelle
CHAMBOLLE-MUSIGNY 1ER CRU 2012
Les Charmes
100% Pinot Noir
(13% alc.)
A clear, mid-red colour shows a gentle touch with extraction. The vines here are 30-40yo. The wine has an extra depth and complexity, intense red fruit flavours, and is stylishly fashioned with real allure. For drinking now to 2025+.
Amiot-Servelle
CHAMBOLLE-MUSIGNY 1ER CRU 2015
Derrière la Grange
100% Pinot Noir
(13% alc.)
From vines planted in 1934 and sited just below the village towards Morey-St-Denis in a slightly deeper soil than Charmes. Amiot-Servelle is one of two proprietors with 0.36 ha of vines in this tiny 1er Cru which totals just 0.47 ha. As expected, this is a complex wine, quite reserved on the nose, with the structure, grip and concentration (35% whole bunches) from old vines evident on the palate. The fruit has black notes, is dense and has more weight and resonance than Les Charmes. Needs at least six years from vintage and will age for up to 15 years. For drinking 2021 to 2030.
Amiot-Servelle
CHARMES-CHAMBERTIN GRAND CRU 2016
100% Pinot Noir
(13% alc.)
This comes from 0.19 ha of 60-70yo vines in the upper part of the appellation that can also be called Mazoyères, where the limestone outcrops in places and there is a very thin, red coloured soil, imbued with iron. Always very black fruited on the nose with a note of herbal tea, it has a lot of density thanks to a tiny cluster of grapes from old vines. A seductive texture with caressing mid-weight flavours, the grippy tannins are ripe and well-coated (10% whole bunches used) presaging a long future. Will easily last for 20 years. For drinking 2024 to 2036.
Amiot-Servelle
CHAMBOLLE-MUSIGNY 1ER CRU 2016
Les Amoureuses
100% Pinot Noir
(13% alc.)
The 0.45 ha of vines here are planted in the highest part of this famous vineyard (two-thirds are from the 1950s and one third from 1996) in a thin, stony, limestone-heavy soil. Just two barrels produced in 2016 – for their top wines A-S use barrels where the oak has been seasoned for four years before use (a year longer than their other wines). This is a sensational wine, at the level of a fine grand cru, with an outstanding texture and energy, intense black cherry and blueberry fruits, notable spice, real depth of flavour and length, a mineral backbone and very fine tannins (10% whole bunches). It needs more than seven years from vintage date and will last for twenty. For drinking 2024 to 2036.
Amiot-Servelle
CLOS-SAINT-DENIS GRAND CRU 2016
100% Pinot Noir
(13% alc.)
The 0.17 ha of vines here (planted pre-phylloxera at an eye-opening 28,800 vines per hectare!) is located in the heart of the appellation on quite a steep, east-facing slope, in a marl dominant soil. Made with 20% whole bunches, there is a spicy, floral nose with layers of blackberry and raspberry fruit, and on the palate, it has mineral-inflected fruit with class, density, restraint and energy. Elegant and structured this is an exceptional wine. Needs 8 years and will last for 25. For drinking 2024 to 2036.