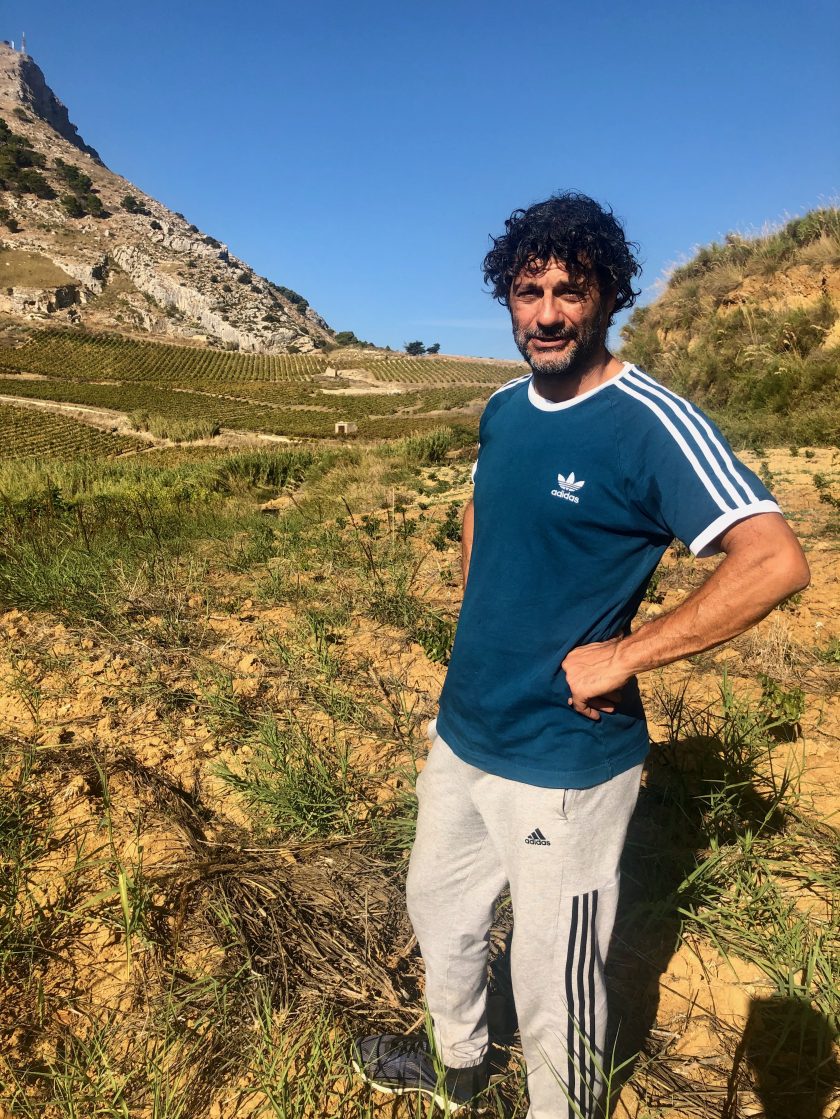 Alessandro Viola
| | |
| --- | --- |
| Vigneron | Alessandro Viola |
| Location | Alcamo (Trapani) |
| Size of Domaine | 12 ha |
| Terroir | Mediterranean climate. Varied soils of limestone and sand up on Mount Bonifato (north facing) and clay down the valley. 250-700m altitude. |
| Viticulture | Certified organic (Suolo e Salute) |
| | View Alessandro Viola wines ↓ |
The first time we came across the name Alessandro Viola it was a mention on a bottle of Etna Rosso Nonna Aurelia 2015, a bygone collaboration with Azienda Siciliano. Recommended by the talented team at Vineria Vitis (Cave Ox' sister restaurant in Castiglione di Sicilia) this wine stopped us in our tracks – perfectly pitched extraction, precise gorgeous fruit and no sulphur added which is not an easy feat. A few days later we were back at Vitis for yet another lovely meal and they did it again: a stunning catarratto Le Mie Origini by Azienda Agricola Viola. Alessandro was now firmly on our radar and when we found out his wines had never been imported to the UK we decided to pay him a visit.
During our second trip to Alcamo in January 2020 Alessandro took us for lunch to the nearby picturesque port of Castellammare del Golfo, and it was there in his favorite seafood restaurant La Tonnara that we sealed the deal, around a traditional couscous alla Trapanese.

"Who are we to think we can do better than nature!?"
Alcamo is located halfway between Trapani and Palermo, on the north coast of the island, only a few kilometers inland from the gulf of Castellammare. Cool and humid sea breezes climb above town onto Mount Bonifato with its pine forest and nature reserve Bosco di Alcamo. It's here that the best vineyards lie on limestone and sandy soils. These different factors explain, in part, why the DOC Alcamo was bianco-only until 1999.
The Viola family has always had a strong bond with their terroir, indigenous grapes and wine. Alessandro and Aldo's father was a winegrower and produced some wine for domestic consumption. The brothers, impregnated with this culture, followed their own personal path and went on separate winemaking journeys. Alessandro graduated in oenology and viticulture, and gained experience around the world (windsurfing as well as winemaking!) before deciding to come back home and solely focus on the family's land. The visceral love for his Sicilian roots makes him a fervent advocate for native varieties and catarratto in particular. This sensitive grape is especially well-suited to that corner of Sicily and it beautifully conveys a sense of place when put in the right hands.
Alessandro tends 5ha on Mount Bonifato, right up the mountain pass to approx 600-700m altitude, laid over a geological fault with sand on one side and limestone on the other. This complexity of soils as well as abundant underground water and the cool sea breeze make for an extremely qualitative terroir drenched in Sicilian sun. Catarratto is the star there but he has recently acquired a piece of fallow land and planted some massal selection of perricone as well as nero d'avola. Seven more hectares lie down an inland valley scattered around Santa Ninfa and Pietrarenosa (at 250m altitude) on clay soils with grillo, nerello mascalese, nero d'avola and syrah planted.
When discussing viticulture and the topic of chemicals arises, a constrained smile appears on Alessandro's face and you'll cheekily be told, "but who are we to think we can do better than nature!?" Extremely respectful of his land he simply mows with disks in between rows and ploughs by hand around the vines – usually once or twice per season. Winter cover crops of fava and clover are planted for nitrogen fixing, soil texture and microbial life.

In the cellar white grapes are directly pressed whereas reds are fully destemmed – Alessandro is not a fan of semi-carbo as he likes to point out. Vinification and ageing occur in a mix of stainless steel, Marsala botti and French oak. All wood vessels have been progressively bought new allowing better control and precision. Alessandro likes to play with lees-stirring, a thoughtful and judicious batonnage (roughly once a month) that adds depth and layers to his wines. Sulphur is banned during vinification and only added at bottling in tiny quantities.
Alessandro has that typical Mediterranean swagger and laissez-faire attitude. You should not be fooled, now in his mid-40s he is an experienced vignaiolo and knows exactly what he's doing. His precision and consistency as a winemaker are redoutable. The Viola wines have an almost nourishing energy, there is a sense of freedom about them – aromatic and quintessentially Mediterranean yet combining low alcohol levels and lip-smacking acidity. Alessandro currently vinifies in relatively cramped conditions but is about to build a new cellar and house up the mountain pass, in the heart of the Alcamo Classico area, surrounded by his beloved catarratto. The future is bright for the Viola family.
Alessandro Viola Wines
Alessandro Viola
NOTE DI BIANCO 2021
Terre Siciliane IGP
The grapes come from Santa Ninfa and Pietrarenosa down the valley (250m) on clayey soils. Alessandro points out that grillo is a strong variety which adapts easily to drought and consistently delivers quality and quantity. Vines are 15yo, grapes were harvested early September at 40hh and directly pressed. It was fermented and aged in stainless steel before early bottling in January with 20mg/l SO2 added. This is the azienda's flagship, fruit forward with lovely pear skin bitters, it is joyful, fresh, lifted by a citrusy and salty finish. An extremely smashable wine.
Alessandro Viola
SINFONIA DI BIANCO 2020
Terre Siciliane IGP
As per Note di Bianco the grillo grapes come from vineyards around Santa Ninfa and Pietrarenosa – this is a selection of the most qualitative plots harvested a few days later for extra ripeness. The grapes stay on their skins for three days without extraction before being pressed, the wine ages in old chestnut botti, bottling with low SO2. Intense, textural and aromatic it displays refreshing and food-friendly bitters (a perfect match with couscous alla Trapanese!), and showcases how versatile grillo can be.
Alessandro Viola
LE MIE ORIGINI 2020
Terre Siciliane IGP
100% Catarratto
(12.5% alc.)
The jewel in the crown and Alessandro's favorite grape – he has fond memories devouring catarratto during harvest as depicted on the slick wooden label. The vines for Le Mie Origini (My Origins) were planted by the grandfather more than 30 years ago, they grow up on the mountain pass at 500-600m altitude. Limestone soils, north-east exposition, underground water and cool sea breeze are ideal for cataratto. A variety which is able to express terroir like no other according to Alessandro. Usually picked at the end of September, the grapes go through one night maceration into the press, fermentation and ageing happen in 2,500ltr botti with well-judged lees stirring and no SO2 added until bottling (10-20mg/l). Deep in color while the palate is round and rich, the expansive mouthfeel is perfectly balanced by salty acids, an umami bomb with complex flavours of juicy peach, spiced apricot, fresh hay and peated cereal – an aromatic profile reminiscent of the best white Châteauneuf-du-Papes. The finish is long, taut and salivating, this is a food-friendly and moreish wine in the purest Sicilian form.
Alessandro Viola
ROSÉ 2021
Terre Siciliane IGP
90% Nero d'Avola, 10% Nerello Mascalese
(11.5% alc.)
Nero d'avola from the valley near Santa Ninfa and a touch of nerello from Alcamo, both picked early, directly pressed and vinified/aged in stainless steel to enhance freshness of fruit. Zesty with acidulated red fruits, blood orange, and peppery aromas, this is the perfect spring/summer wine, pure pleasure and indeed pretty 'smashable'.
Alessandro Viola
NOTE DI ROSSO 2020
Terre Siciliane IGP
40% Nero d'Avola, 40% Nerello Mascalese, 20% Perricone
(13.5% alc.)
"The perfect Sicilian blend", as Alessandro says, juicy and thirst-quenching, typically Mediterranean with summer strawberries and liquorice roots flavours. The fruit-forward nero d'avola is planted in a valley inland near Santa Ninfa, while the rustic nerello and earthy perricone come from Alcamo, a 10yo massal selection from local old vines. Alessandro insists on the fact that the massal of nerello does not come from the Etna, Alcamo's nerello is somehow different and better-suited to the area. Grapes were totally destemmed, a week maceration followed by fermentation and ageing in stainless steel.