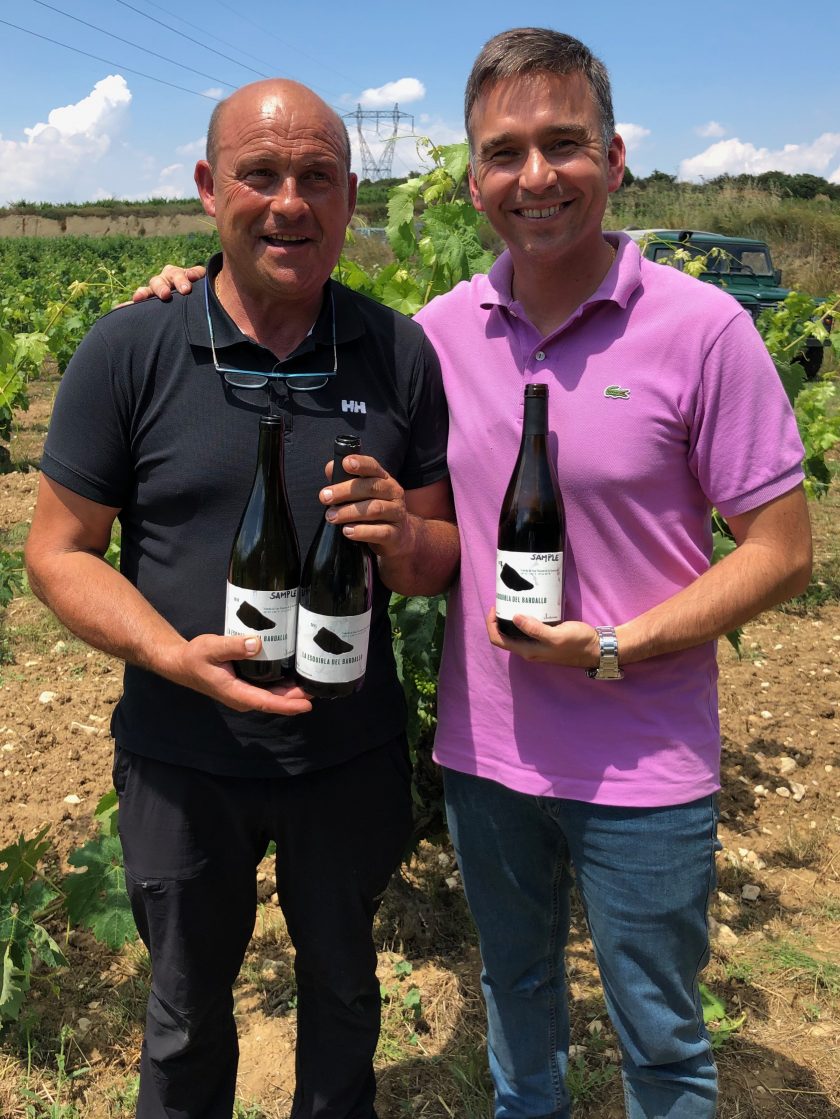 3 Viñerones
| | |
| --- | --- |
| Vigneron | Carlos Sánchez, Javier García, Nacho Jiménez |
| Location | San Vicente de la Sonsierra (La Rioja) |
| Size of Domaine | 0.55 ha |
| Terroir | Continental climate with Atlantic influences. Calcareous and ferrous clay, chalk, alluvions and river stones. 520m altitude. |
| Viticulture | Practising biodynamic |
| | View 3 Viñerones wines ↓ |
3 Viñerones is the small side project of three friends: Carlos from Las Bacantes, Javier from 4 Monos, both in Gredos, and Nacho owner of the wine shop and distributor La Tintorería in Madrid.
They buy the grapes from Luis Fernández, owner of a tiny vineyard planted in 1982 on one of the most sought-after terroirs in the zone of El Bardallo (named after the local gully/stream) close to Labastida village in Rioja Alta. Luis runs a nearby petrol station and has been carefully tending his cherished family vineyard (locally nicknamed 'la niña de Luis') as a hobby. Following biodynamic principles for the past 8 years he has been alternating ploughing and cover crop to increase biodiversity and life in his soils.
2015 was the first vintage ever made and it has already caught the attention of critics for its atypical and refined style.
3 Viñerones Wines
3 Viñerones
RIOJA 2015
La Esquirla del Bardallo
97% Tempranillo, 3% Viura
(13% alc.)
Named after the Neolithic shard-shaped rock cutting tools often found around the barranco Bardallo, it was fermented in open fiberglass vats from foot trodden grapes with 50% stems to balance the warmth of 2015 vintage. Ageing on fine lees took place in different French and Austrian barriques (2 to 3yo minimum) for just over 12 months. A reduced and earthy nose slowly opens and reveals intriguing aromas of bramble, menthol and maraschino liquor; the mouth is restrained and structured with fresh and lovely tannins triggering salivation and length. This is a characterful and modern Rioja in the best sense of the word. Ageing and decanting will do this wine good!