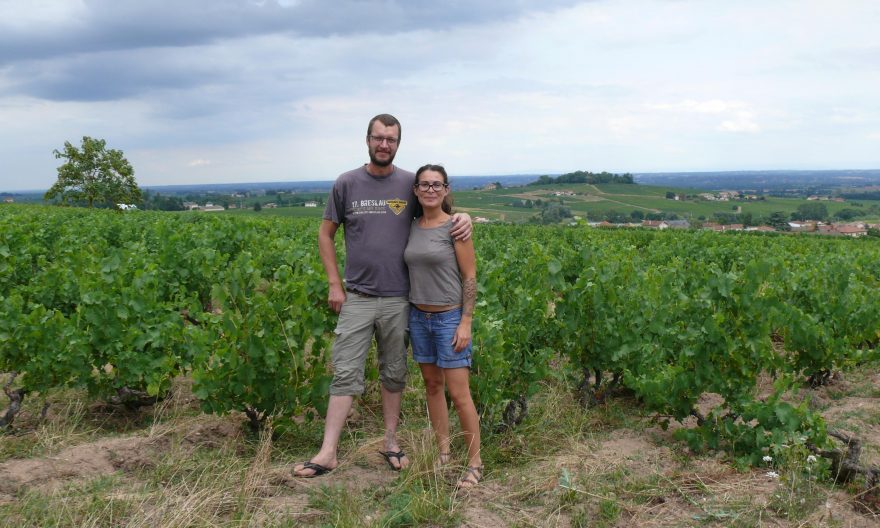 Stephen Durieu de Lacarelle
| | |
| --- | --- |
| Vigneron | Mathilde and Stephen Durieu de Lacarelle |
| Location | Saint Etienne des Oullières (Rhône) |
| Size of Domaine | 8.5 ha |
| Terroir | Continental climate. Granitic sand on granite bedrock. 320m altitude. |
| Viticulture | Certified organic (Ecocert) |
| | View Stephen Durieu de Lacarelle wines ↓ |
Based in Saint-Etienne-des-Oullières, south of Brouilly (southern Beaujolais), the domaine was created in 2000. Stephen learned under the tutelage of Jean-Claude Lapalu (with whom he remains a close friend) and was joined by Mathilde in 2010 who later became his wife.
Together they farm about 8.5ha which they rent from Stephen's family. All the vines are located in the lieu-dit Moulin-à-Vent (nothing to do with the northern appellation of the same name), a south-east to south-west facing slope on decomposed granitic sand overlying a hard but friable layer of granite. The name Moulin-à-Vent refers to the past existence of a windmill at the bottom of the slope, a good indication of the site's exposure to cooling winds, a very helpful feature in such a warm area as it amplifies diurnal temperature variation and preserves acidity in grapes.
Except for 0.35ha planted in 1990, all their vines are at least 50yo with 1.5ha over 100yo. Having made the switch to organic viticulture in 2005, Mathilde and Stephen started biodynamics in 2019, harvesting all the herbs locally and making the preparations themselves.
They aim to make sulphur-free wines as pure and precise as possible through traditional semi-carbonic maceration. They don't have the equipment to cool the harvest, so Stephen usually fills the bottom half of the cuves with warmer grapes harvested in the afternoon, and tops it up with cool, freshly-harvested grapes the following morning to avoid excessive heat during fermentation – a pretty efficient technique given that their average fermentation temperature never goes above 23°C. They don't practise remontage nor pigeage for a delicate extraction, and the length of maceration varies depending on the cuvée but rarely exceed ten days. Stephen and Mathilde make moreish wines with a silky texture and a vibrant granitic stamp on the finish.
Their labels boast the mention 'Lou. Y es-tu?' as well as the drawing of a wolf. This is a reference to their daughter Louise (nicknamed Lou) and a famous French children's song 'Loup y es-tu?' that could be translated as 'Wolf are you there?'.
Stephen Durieu de Lacarelle Wines
Stephen Durieu de Lacarelle
BEAUJOLAIS-VILLAGES 2020
Lou.Y Es-Tu ?
Stephen learned under the tutelage of Jean-Claude Lapalu and has 7ha of organically tended old vines in St-Etienne-des-Oullières. Cuve-aged, this wine has a very silky texture, with scrumptious wild strawberry, raspberry and violet fruits and a purity (no sulphur) that just keeps you wanting more.