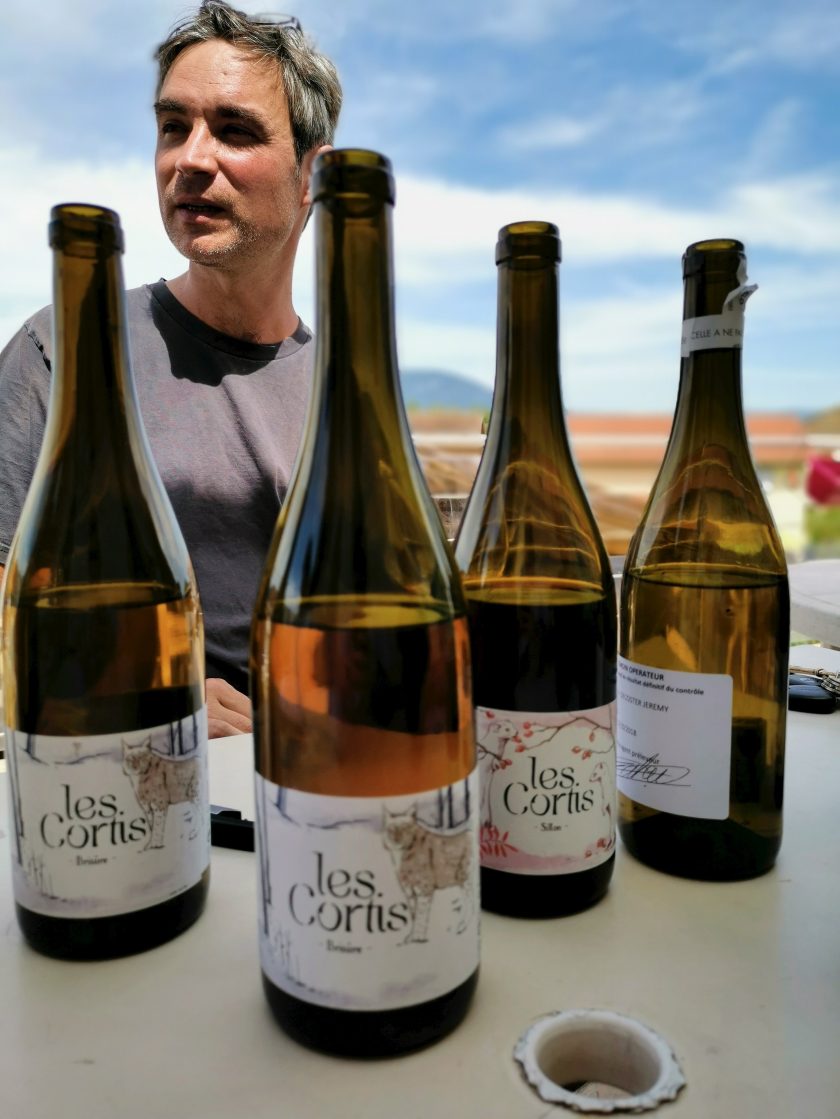 Les Cortis
| | |
| --- | --- |
| Vigneron | Isabelle and Jérémy Decoster Coiffier |
| Location | Andert-et-Condon (Ain) |
| Size of Domaine | 6 ha |
| Terroir | Alpine climate. Cretaceous limestone, glacial moraine, sand, clay, silt. Gentle slopes on the Jura mountain foothills. 225-350m altitude. |
| Viticulture | Certified organic (Alpes Contrôles) |
| | View Les Cortis wines ↓ |
We first heard of Les Cortis when we were touring London with Thomas Pico (Pattes Loup) in November 2018. As we often do, we asked if he had come across any up and coming producers and he mentioned Jérémy Decoster Coiffier who was due to take part in Chai l'Un Chai l'Autre, a tasting co-hosted by Thomas and the De Moors. Originally from Paris, Jérémy left his old life behind in 2011 when he moved to Chablis with his wife Isabelle to learn how to become a vigneron. His first experience was with Lilian Duplessis – introduced by Thomas – here he spent most of his 2.5 years working in the vineyard, followed by a stage with Alice and Olivier De Moor whom he regards as his mentors.
Based in southern Bugey, the domaine lies about 4km northwest of Belley, the wine epicentre of the area and birthplace of Jean Anthelme Brillat-Savarin, one of the founding fathers of French gastronomy – his book Physiologie du Goût (Physiology of Taste), published in 1825, is a worldwide reference still used in catering schools. Les Cortis, 'Les Jardins' in local patois, is comprised of parcels scattered on the lower Jura foothills just south of Le Grand Colombier – the highest point in Bugey at 1,534m and a regular feature in the Tour de France – and about 30km west of the Lac du Bourget and the Savoie appellation of Jongieux.

"It's like a meditation, I feel in complete harmony with the moment, the plant and nature."
Although close to each other, their five plots offer a surprising diversity of soil, from hard Cretaceous limestone to glacial moraine, as well as rocks, silt, sand and puddingstone. The absence of vigneron neighbours is a blessing, and the rich biodiversity of the surrounding forests a substantial advantage when farming without chemicals. Inspired by Masanobu Fukuoka, Jérémy aims to respect the plant's natural biological rhythm, minimising his intervention to the essentials. For instance he doesn't practice 'rognage' – trimming of the plant's apex which is considered to be the plant's 'brain' – and doesn't plough either, allowing wild grass to grow before laying it down using a 'rolo faca' (knife roller), thus creating a natural mulch which prevents the soil from overheating and excessive water loss through evaporation. Essential oils and 'purins' (liquid manure) are used to treat and stimulate the plant.
Jérémy's true calling is the vineyard, he loves nothing more than pampering his vines and often refers to pruning as his favourite job, "It's like a meditation. I have to be fully focused to do it properly. I think about each vine and its individual needs, generally at some point things start to flow, I know intuitively what to do and feel in complete harmony with the moment, the plant and nature."
Now that Isabelle and Jérémy have bought the vineyards outright, they have started uprooting some of their parcels to introduce more local varieties with a view to produce field blends only. Jérémy says he feels inexplicably drawn to this idea and hopes these 'vins de parcelle' will become a more accurate and complex reflection of their terroir. Agroforestry – a farming system in which trees or shrubs are grown around or among crops – will follow in due course in a bid to further increase biodiversity on their plots.

In the cellar he aims at producing wines that are close to the grapes, true to their origins, and strives to keep things simple. The philosophy is to keep a watchful eye on proceedings and not interfere unless absolutely needed. For instance, he normally avoids adding sulphur during winemaking and élevage, but in a hot vintage like 2018 with volatile acidity creeping up dangerously, the decision was made to add one gram after malo (for the reds only). Vinification and élevage currently take place in fibreglass tanks mostly with plans to increase the proportion of stainless steel, barrels and foudres as soon as finances allow it.
Les Cortis was our first stop in Bugey on our summer 2019 tour and, having visited the region on a rare few occasions before, we didn't really know what to expect. We were on a tight schedule so it was a short visit but I remember the excitement on everyone's faces as we tasted the wines. They have a joyful nature, full of gorgeous pristine fruit, crunch and mineral bite. Immediately convinced by the sincerity of Jérémy's approach and his potential, we placed an order there and then.
Les Cortis Wines
Les Cortis
TERAXE
Vin de France
80% Altesse, 20% Chardonnay
(12% alc.)
This is a blend of two south facing parcels on varied soils of clay, loam and silt. The vines are 30-50yo and yields go from 25hh for the chardonnay to 40hh for the altesse. After a long slow pressing, vinification took place in fibreglass tanks and oak barrels, followed by 10 months élevage on fine lees before bottling with a pinch of sulphur – total SO2 of 23mg/l. The low yielding chardonnay brings 'gras' and ripeness on the palate while the altesse adds focus and verticality. Aeration does well to this crunchy and joyful wine.
Les Cortis
UZÉE
Vin de France
66% Gamay, 34% Mondeuse
(11.5% alc.)
Two parcels of 30-50yo gamay blended with a plot of 20yo mondeuse on rocky limestone soils with some clay. The whole grapes were infused in fibreglass for three weeks with light remontages (using a bucket) to keep the cap clean from bacteria. 2018 had little acidity so Jérémy aged Uzée on total lees without racking to increase freshness of fruit. This results with a touch of reduction which blows off quickly. Both grapes complement each other beautifully – the gamay brings its juicy quality while the mondeuse adds structure and depth. This is a beautifully extracted red with an almost luminescent quality. Total SO2 of 40mg/l.