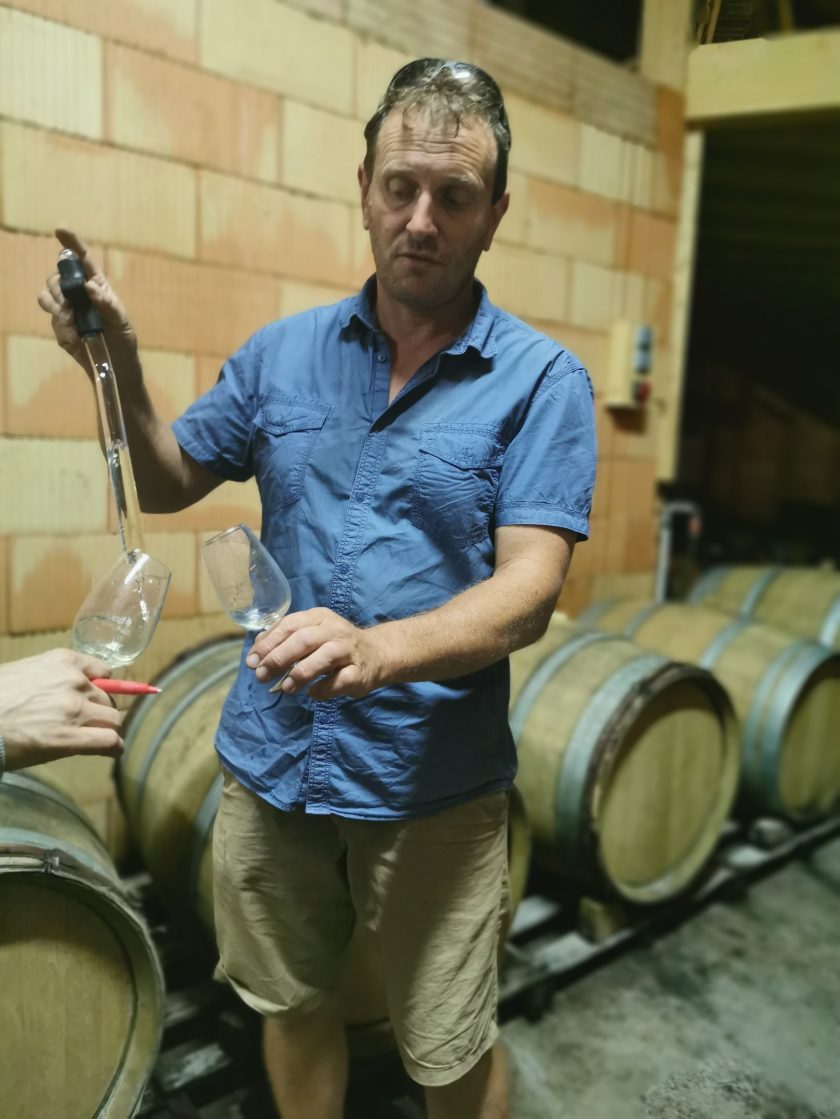 Domaine des Orchis
| | |
| --- | --- |
| Vigneron | Philippe Héritier |
| Location | Poisy (Haute-Savoie) |
| Size of Domaine | 3.9 ha |
| Terroir | Alpine climate. Glacial moraine, very rocky soil of limestone. 350-450m altitude. |
| Viticulture | Certified organic (Ecocert), practising biodynamic. |
| | View Domaine des Orchis wines ↓ |
After leaving university where he qualified as an agricultural engineer, Philippe Heritier initially worked for Crédit Agricole (that specialises in loans to farmers) and through this role visited many growers, including Michel Grisard, whose biodynamic approach was an inspiration. He gave up his bank job in 2006 and launched his career as a vigneron charting a very independent path from the outset.

We don't have many growers as grounded as Philippe, and yet he looked to the ancient Greeks for design inspiration. Philippe was blown away by the beauty of the Epidaurus theatre on a trip to the Peloponnese, and leaning on the ancient Greek rules of the golden ratio (apparently barrels were originally designed using the same rule), he designed a hexagonal cave to provide a harmonious environment for vinification and élevage.
He searched out brilliant terroirs around the Frangy cru (north-west of Annecy), planting most of his vineyards (using massal clippings from Michel Grisard and Charles Trosset), and focusing on what he regards as the best two varieties in the region. Working at high altitudes in the Haute-Savoie significantly north of almost all the other Savoie vignerons, and pruning short and working with very low yields, he makes wines that are denser and more complex than the Savoie norm.

The majority of his holdings lie close to the southernmost Jura mountains, just outside the Frangy cru limits, where the cooler climate generally makes for fresher and more angular wines than those from the south. These include an exceptional terroir near Desingy with vertiginously steep south-facing vineyards (previously abandoned as the work was too hard), where he planted 2.5ha with altesse and a little mondeuse. The soil is a mix of limestone-clay and glacial debris, and working with tiny yields of 25hh the grapes have a natural density to offset the extra freshness. In addition he has 0.6ha of mondeuse in Collonges, at the top of the main hillside behind Frangy, and another 0.8ha in Peillonnex (planted in 1992 by the previous owner) that gave Philippe his first crop back in 2007.
In the cellar, he keeps 5% of whole bunches for the mondeuse fermentation and likes to age the roussette on fine lees as long as possible. Unusually for Savoie, the wines are given long fermentation and élevage in old barrels over two winters, with bottling taking place after 18 months. Total sulphur levels are around 40mg/l for the roussette and 30mg/l for the mondeuse.

Alongside his life as a vigneron, he also continues the work of his father Joseph who in 1995 started a business breeding snails. Today Philippe rears and then cooks 300,000 snails a year, selling them to many of the country's leading restaurants.
Domaine des Orchis Wines
Domaine des Orchis
ROUSSETTE DE SAVOIE 2017
Quintessence
Made from a selection massale of clippings from renowned growers Charles Trosset and Michel Grisard, Orchis have 2 ha of altesse planted at 350m-450m altitude in a mix of glacial debris/ limestone-clay. Aged in older barrels with malos completed, this is an exceptional wine with real poise whose bone dry, dense fruit so typical of low yields is offset by a refreshing acidity and good salinity.
Domaine des Orchis
QUINTESSENCE 2016
Yields here are just 25hh from 2 ha of vines planted in glacial debris in 1992. Destalked 90% to avoid astringency, it is aged in older barrels before being bottled unfined and unfiltered. Very floral on the nose (like Côte-Rôtie) it has clearly defined spicy black fruits, is supple on the palate and the tannins are well judged.