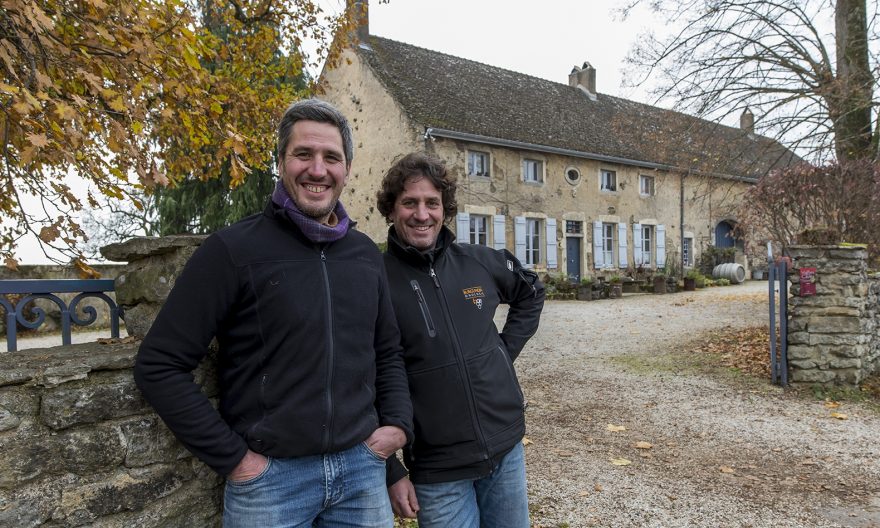 Domaine Chevrot
| | |
| --- | --- |
| Vigneron | Pablo & Vincent Chevrot |
| Location | Cheilly-les-Maranges (Saône-et-Loire) |
| Size of Domaine | 20 ha |
| Terroir | Continental climate. Gravel, limestone, sand, marl on mid-Jurassic limestone bedrock. Various aspects. 250-320m altitude. |
| Viticulture | Certified organic (Ecocert) |
| | View Domaine Chevrot wines ↓ |
Domaine Chevrot in Maranges, at the southern point of the Côte-de-Beaune, is run organically by brothers Pablo and Vincent, they are the leading producer in this appellation which is essentially a continuation of the hillside from Santenay.
There are just 38 vignerons in the village, and as prices in neighbouring appellations have shot through the roof recently, there is now a justifiable spotlight on this village. Most of the premier crus are planted on a steep south-facing hillside where the pinot has no problems in attaining phenolic ripeness, with the village wines on a few smaller hills just to the south. There are some fine terroirs for both colours although the soils are currently planted with 90% pinot noir and 10% chardonnay.
The Chevrots vinify and age their reds without sulphur, use low doses for the whites (50mg/l levels of free and 120mg/l total sulphur used by many of the top domaines in the region are a scandal) and ensure that the percentage of recent barrels used never mark the wines unduly, so the wines can be enjoyed in their youth.
Domaine Chevrot Wines
Domaine Chevrot
MARANGES 2018
Sur le Chêne
100% Pinot Noir
(13% alc.)
This comes from vines planted on the lower part of a south facing hillside where the topsoil is essentially marl, although there are sands, gravels and even a touch of granite. At 3ha this is the domaine's most important vineyard and the vine age varies from 15 to 50yo. Made using 15% whole bunches, it has a beautiful colour, and the weight of brooding, black cherry fruit on the palate is perfectly pitched with well-integrated oak. It's a characterful wine that shows how good the terroir of Maranges can be.
Domaine Chevrot
MARANGES 1ER CRU 2014
Les Clos Roussots
100% Pinot Noir
(12.5% alc.)
Just 0.27ha of 50yo vines here, planted in a clayey topsoil with broken-up limestone beneath. Vinified with 10% whole bunches and aged in 20% new to 4yo barrels, now that this has emerged from its shell it is a very elegant wine, with spicy, floral aromas, and sappy, black fruits.
Domaine Chevrot
SANTENAY 2015
Vieilles Vignes
100% Pinot Noir
(12.5% alc.)
Chevrot's 0.55ha of 45yo vieilles vignes come from both the north and south end of Santenay (one with iron-rich red soil, and another one oriented toward limestone). Made from 10% whole bunches and aged in 20% new to 4yo barrels it offers a nose of wild strawberries and griotte cherries with a touch of cumin. Its ripe fruit knits in very harmoniously to its tannic structure, with a fresh, mineral finish.
Domaine Chevrot
SANTENAY 1ER CRU 2016
Clos Rousseau
100% Pinot Noir
(12.5% alc.)
Clos Rousseau is Chevrot's largest parcel of 1er Cru at 1.5ha. Here the vines are 50yo planted in whitish stony, clay soils with an eastern aspect. Aged in 25% new to 5yo barrels, this wine has a delicate, pale colour. It's a wine of real finesse with strawberry, red-currant and blackberry fruit that are very pure and harmonious.