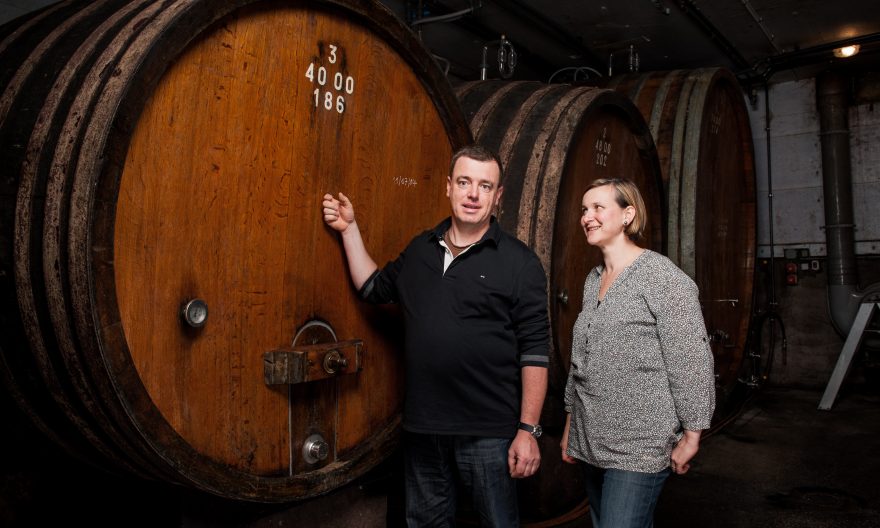 Dirler-Cadé
| | |
| --- | --- |
| Vigneron | Jean & Ludivine Dirler |
| Location | Bergholtz (Haut-Rhin) |
| Size of Domaine | 18 ha |
| Terroir | Continental climate, sheltered from rain by Vosges mountains. Marl, limestone, sandstone soils. Up to 20° slope, various exposition. 280-300m altitude. |
| Viticulture | Certified organic (Ecocert) and biodynamic (Biodyvin) |
| | View Dirler-Cadé wines ↓ |
Based in Bergholtz in the southern half of Alsace, south of Colmar, Dirler-Cadé is one of Alsace's leading domaines making brilliant, tightly structured wines.
After five generations of winegrowing before him, Jean Dirler and his father Jean-Pierre started to convert the easier lower slopes of their vineyard (6ha) to biodynamic viticulture and continued in 1999 with the remaining 3ha which were the steepest and narrowest and thus necessitated the help of a horse to plough, still in use today.
The domaine familial took a further step forward in 2000 with the marriage of Jean to Ludivine, daughter of Léon Hell-Cadé, and doubled in size by the addition of Ludivine's familial vineyards in nearby Guebwiller. The merger, now known as Dirler-Cadé, brought the total vineyards planted to 18ha. These new vineyards were brought on in stages, initially converted to organically certified viticulture by 2003, a switched to biodynamics then followed which allowed Dirler-Cadé to label their entire production as Biodyvin (biodynamic) as of the 2007 vintage.
They have a fine cluster of grand crus near Guebwiller: Saering, Spiegel, Kitterlé and Kessler. Saering has a complex mix of marl, sandstone and limestone and is largely south-east facing, producing very finely cut, delicate, elegant wines. Spiegel which is due east facing (so important to retain good acidity) has a sandstone and clay bedrock. It is especially suited to producing dense, long-lived rieslings. Kessler is on a south-east facing hillside above Spiegel and is quite a steep terraced vineyard based on sandstone, where gewürztraminer and pinot gris thrive.
Dirler-Cadé Wines
Dirler-Cadé
SAERING GRAND CRU 2014
90% Muscat Ottonel, 10% Muscat d'Alsace
(12.5% alc, 2g/l of rs)
The 34yo vines here give a very finely sculpted wine. Exquisitely balanced with citrus fruits, hints of verveine and mint and a characteristic sapid, saline note on the finish. For drinking now to 2024+.
Dirler-Cadé
KESSLER GRAND CRU 2013
100% Pinot Gris
(13.5% alc, 19g/l of rs)
Despite a vigneron's best efforts, pinot gris sugars tend to spike up quickly just before harvest and most grand crus have around 40-50g/l of rs. It is therefore unusual but a real pleasure to discover a balanced pinot gris grand cru with only 19g/l of rs, which helps to make it both a more harmonious and digestible wine. The sandstone base of Kessler also seems to provide the wine with a notable mineral print, and the smoky fruit, which has hints of ginger and praline make this a superb wine for gastronomy. For drinking now to 2023.
Dirler-Cadé
SPIEGEL GRAND CRU 2014
100% Riesling
(13% alc, 5g/l of rs)
Spiegel gives a denser more tightly wound riesling than Saering, which gradually reveals its incredible qualities. There is more clay in the vineyard here, and an easterly exposure, which according to Jean Dirler help to make this such a longlived riesling. Anyone looking for a world class dry riesling, with a good cellar and a little patience would be amply rewarded by this wine. For drinking now to 2029+.
Dirler-Cadé
CRÉMANT D'ALSACE 2014
50% Pinot Gris, 45% Pinot Auxerrois, 5% Pinot Noir
(12.5% alc)
An excellent sparkling wine made by the méthode champenoise (and a rather unique pure pinot blend). Zesty and sapid with a delicate fruit, this makes for excellent party fizz and real value alternative to champagne. Zero dosage.